Kingston KC1000 NVME SSD Review
We've looked at a few Kingston products before for both PC and mobile storage. However both of those were value products over performance. The KC1000 is a different beast entirely as the first drive run though our new test system exclusively. It also represents our first look into the exciting promise of NVME storage.
Our Test system and Procedure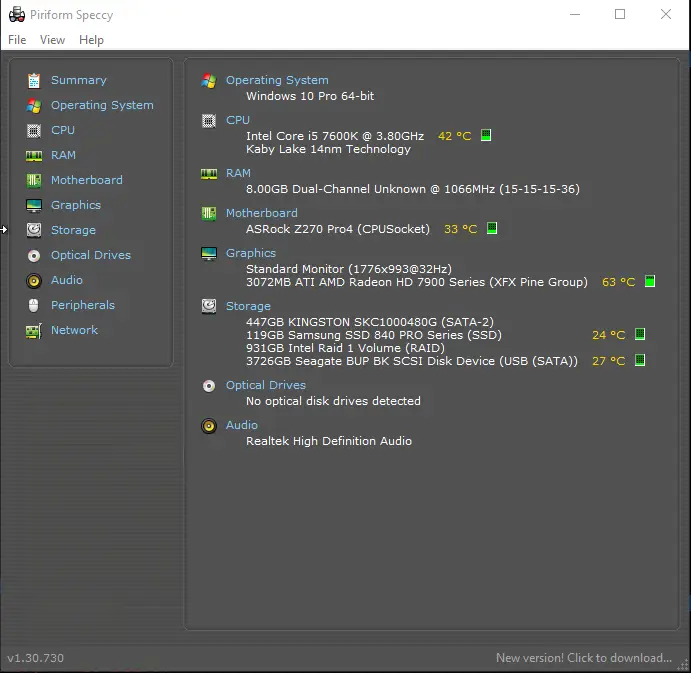 We detailed our new test system in it's own article. For testing the KC1000 was placed in the furthest m.2 slot to prevent thermal influence from other components. The system is running windows 10 Professional and was under no load(AV disabled) for all tests. Testing will consist our standard set of tests which we outlined previously. We're going to include two drives from our previous test bench
The KC1000 And accessories
This slideshow requires JavaScript.
The packaging for the KC1000 has a nice premium feel compared to other Kingston products we've tested. Clear on the box is information regarding a welcome 5 warranty. The move to m.2 SSDs has . The KC1000 we were sent is the variant that includes a PCIe adapter. Our test system has a m.2 slot native on the board however so this isn't required for testing although it had no adverse affects when spot checked and is a welcome addition for anyone planning to install multiple cards.
Capacity
240GB
480GB
960Gb
Controller
Phison PS5007-E7
Phison PS5007-E7
Phison PS5007-E7
Firmware
P1026A
NAND
Toshiba 15nm MLC
Toshiba 15nm MLC
Toshiba 15nm MLC
Interface
NVMe PCIe 3.0x4
NVMe PCIe 3.0x4
NVMe PCIe 3.0x4
Sequential Read
2700 MB/s
2700 MB/s
2700 MB/s
Sequential Write
900 MB/s
1600 MB/s
1600 MB/s
Maximum 4k Random Read
225,000 IOPS
290,000 IOPS
290,000 IOPS
Maximum 4k Random Write
190,000 IOPS
190,000 IOPS
190,000 IOPS
4k Random Read
190,000 IOPS
190,000 IOPS
190,000 IOPS
4k Random Write
160,000 IOPS
165,000 IOPS
165,000 IOPS
Temperature range
0-70°C
0-70°C
0-70°C
Form Factor
M.2 2280
M.2 2280
M.2 2280
Dimensions
80mmx22mmx3.5mm
80mmx22mmx3.5mm
80mmx22mmx3.5mm
Endurance
300TBW
.7 DWPD
550TBW
.64DWPD
1PBW
.58DWPD
Warranty
5 years
5 years
5 years
Specs for the KC1000 are an astounding leap over some of the SATA drives we've tested before. Even the write specifications on the smaller 240GB drive are higher than most SATA drives are capable of being read at.
What is NVME
NVME stands for non volatile memory express. It replaces the old AHCI(Advanced host controller interface) that was used for SATA devices. The largest advantages NVMe has over AHCI are a substantial decrease in cpu overhead and a connection to a much higher bandwidth PCIe bus. None of the legacy commands for using spinning media are present either. NVMe was built for speed from the ground up.
What happened to TRIM
TRIM was an extension to the AHCI command set introduced to improve the performance of solid state drives. Since NVMe was built specifically with SSD's in mind it already has similar features in the command set.  As such NVMe SSD's won't show support for the old AHCI trim command.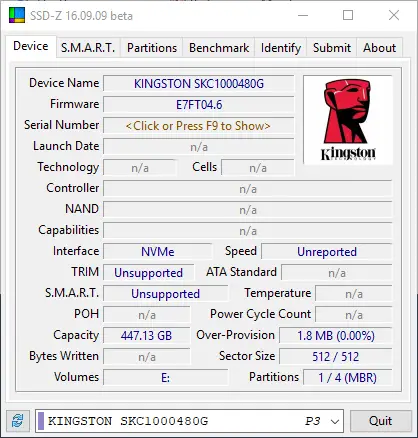 SSD-z is a new application we're going to be using going forward, although it seems to struggle a bit with the NVMe drive it reads out a ton of data on SATA devices.
Up first in testing as always is ATTO. We can see some rather astounding and above specification performance out of the KC1000 right out of the gate. However we do see the achillies heel of M.2 devices crop up as well with an odd performance drop at the 48MB test size. This is due to thermal buildup during the test something all M.2 devices are prone to with their small surface areas.
This slideshow requires JavaScript.
Stacked up against other drives in ATTO we can see the massive advantage NVMe devices have right out of the gate. All transfer sizes are reading higher than any device we've tested including the older Accelsior e2.
The ever popular Crystal Disk Mark gives us a rather astounding surprise with our first random information. At high queue depths we're seeing random read and write performance in the realm of what SATA drives struggle to reach sequentially. The more pedestrian QD1 results are closer to what we're used to seeing on SATA drives however.
This slideshow requires JavaScript.
Coming back to a comparison we can see just how much faster the KC1000 is when it's allowed to stretch it's legs. With unparalleled reads(even the 4k at queue depth 1 has a healthy bump over the other drives) and just as astounding writes it's clear to see why everyone is rushing to release an NVMe drive.
Anvil gives us a good look at some response times and the KC1000 is posting some of the lowest ones we've seen. Response time is really what we feel it's the delay between a request for data and actually receiving it. All solid state drives offer impressive response times however NVMe takes this to an entirely new level.
This slideshow requires JavaScript.
Places against other drives it really shows just how much lower the response times are on an NVMe drive like the KC1000. Remember that the Accelsior e2 was capable of being faster than sata drives but it's internal raid hurts it here. The KC1000 makes a clean sweep across the board here just like it has in other tests.
This slideshow requires JavaScript.
AS SSD usually comes in lower than our other tests but serves as a good sanity check. Everything is in line with what we can expect from the other tests we also have the handy built in real world simulated tests. The simulated tests as with everything we've seen out of this NVMe drive define a new top end for our benchmarks.
This slideshow requires JavaScript.
Small changes in iop results can lead to big differences in the actual values as we see here. This carries through everywhere exept the 4k writes where we see the KC1000 much closer to the reactor that we would like for an NVME device.
As with everything else we're seeing new heights on our consistency testing as well with our first dive into NVMe. Even the minimums over the last 5 minutes(the period we use) weighs in at over 2k iops higher than the average of some devices we've tested by a huge margin.
Consistency came in the same between old and new test benches for clarity sake we're only showing the most recent values. The KC1000 set a new expectation for performance consistency in upcoming products.
Pricing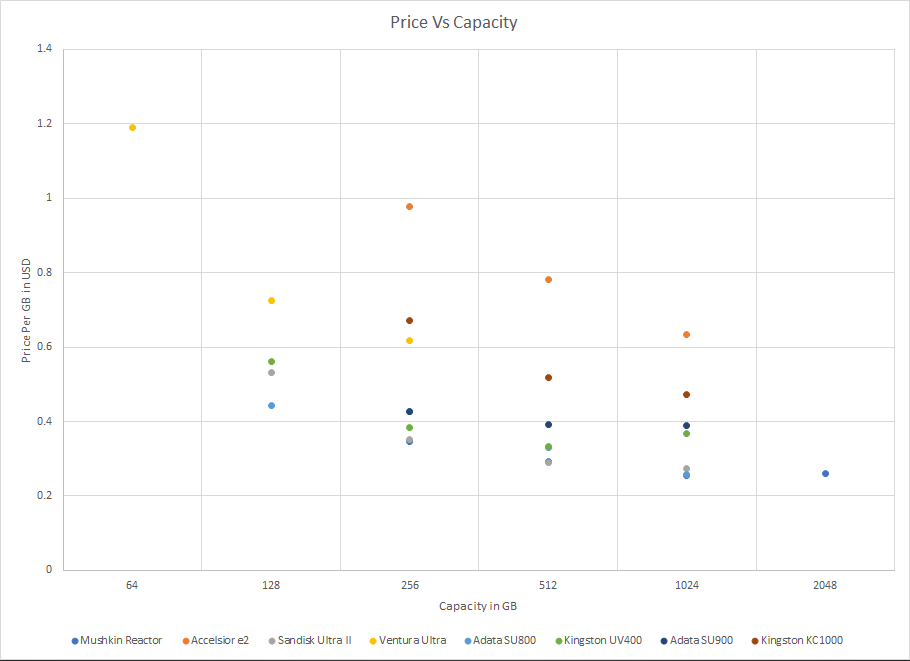 Pricing is the biggest weakness of all the current NVMe devices. Per Gb the KC1000 comes in at 2-3 times the cost of SATA drives. At current pricing the Reactor still holds as the best value at most capacities however the KC1000 leads for performance, depending on your application either one of these drives is going to be a clear value proposition.
Closing Thoughts
The KC1000 is an interesting first dive into NVMe. The drive clearly offers a massive increase in performance for users which can benefit from it. Available in 3 sizes the 480Gb KC1000 which we tested appears to be in the sweet spot currently. Coming in at 254 dollars without and 264 with the PCIe adapter.