How to turn off camera shutter noise on the Galaxy Note 8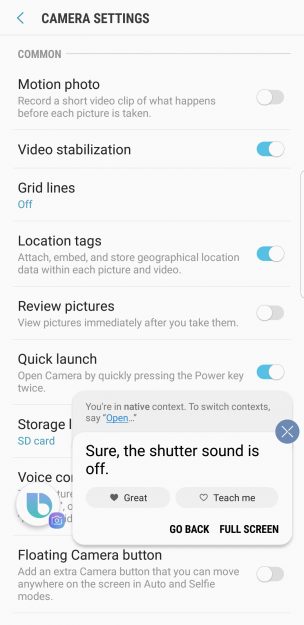 The camera shutter noise is an outdated audio indicator that of course some countries have legislated due to privacy concerns. The idea behind forcing a photographer to keep the noise on is the belief that it will alert someone when their picture has been taken and thereby prevent creepers.
Fortunately the US has not legally mandated that people have to cough to cover up the shutter noise when taking photos without people's permission, or worse yet put a finger over the speaker. However, that doesn't mean that you're going to see the option to turn off the shutter sound on the Galaxy Note 8.
Or at least not on my Sprint Galaxy Note 8. There is no option in the settings to turn off the shutter sound.
As a shutter sound can interfere with my perfectly legal Georgian upskirt photos I want to turn it off. OK, actually I want to turn it off for less nefarious reasons like taking pictures of a sleeping two year old, but man Georgia, you need to fix that law. Short is I don't want to wake a baby or make shutter sounds while I'm at a museum that allows photography.
So, while there is no option for shutter sound displaying, that doesn't mean it's not there. You can tell the Bixby assistant to turn shutter sound on and off and it does. It dumps you at the Camera settings screen as if to show you what it did, but there's nothing displayed.
ALternately you can root the phone, install a different camera app, rename the file that has the shutter sound in it, cover up the speakers, probably plug in headphones, etc etc etc.
Unfortunately this doesn't turn off the screenshot sound, so it still appears a little like I'm taking a picture of my crotch when I'm doing screenshots while in a waiting area. I'll figure that one out later.