Samsung Galaxy Note 8 review (3 weeks in)
As a preface, I've been on HTC phones since 2009 at least, and rooted HTC phone since 2010, so some of these observations are probably a little out there for a stock phone user, but here goes.
I've been using the Galaxy Note 8 nonstop since a repair place blew up my HTC 10 (and subsequently replaced it but my wife's HTC M9 is due for a swapout.) I have added almost off of the software I use on a day to day basis by this point so we're finally at about the same workload as my HTC 10 was.
I'll be doing a separate review of the software later, I'd planned to do it here but work's been rough past two days and this also reached 1000 words pretty quickly and I've got some other reviews to complete that need to happen.
Samsung Galaxy Note 8 hardware
6.3″ screen (6.39×2.97x.33″ body)
Octa core (differs by country, worse case 2.3 quad + 1.7quad)
6GB RAM, 64/128/256GB internal storage
195g / 0.43 lbs
2960×1440 @ 521ppi
Infinity Display (curved screen)
S Pen has 4096 pressure levels
Front camera: 8MP AF, F1.7, 4:3. 1.22µm pixel, 80° FOV
Dual rear cameras
Telephoto camera: 12MP AF, 1.0µm, 4:3, 45°FOV
Wide angle camera: 12MP AF, 1.4µm, 4:3, 77°FOV
4K video @ 30fps, 1080p up to 60, 720p slomo @ 240fps
LTE Cat.16 Wi-Fi 802.11 a/b/g/n/ac (2.4/5GHz), VHT80 MU-MIMO, 1024QAM, Bluetooth® v 5.0 (LE up to 2Mbps), ANT+, USB Type-C, NFC, Location (GPS, Galileo, Glonass, BeiDou)
One or two nano SIMs depending on model
MicroSD max listed at 256GB
IP68 (submersion of 1.5 meter fresh water up to 30 minutes)
3300mAh battery
PMA/WPC wireless charging, Fast Charging
Sensors: Accelerometer, Gyro, RGB light, Hall, Fingerprint, Geomagnetic, Barometer, Iris, Proximity
Gorilla Glass 5
The most powerful device in the palm of your, dropped it again…
I've spent most of my phone reviewing days wondering how people keep dropping their phones all the time. I'd dropped my HTC units a total of maybe four times over the course of eight years. Not so with the Samsung Galaxy Note 8.
It falls off of armrests, it slides out of my hands, it lept out of a shirt pocket and may have chipped the screen this weekend. I feel like I could place it on a nice fluffy couch and find it screen down in my driveway on rocks within a second.
I honestly thought after two and a half weeks that I might need to go in for neurological testing but I can handle everything else fine. It's big, it's unwieldy, and I find my hands aren't quite up to the task of palming the half pound object.
It's the only device I've ever owned I might suggest owning a protection plan on or completely encasing it in an Infinity Display-useless rendering case.
I mean, seriously, get some screen protection. I'm actually scared to move the thing without consciously thinking about it.
The Samsung Galaxy Note 8 freaking fast…
Coming from a quad core with 4GB to an octo core with 6GB RAM doesn't feel quite like the step up you expect it to. Initial speed of load and execution feels about the same as my year old flagship did, however nothing slows it down except the camera.
Except when it's not…
There's some software issue I can't quite pinpoint on the camera where sometimes I can take multiple shots, and sometimes I have an unresponsive clicker button. Sometimes the device hangs with the camera still capturing after taking a 4K video. My guess is this has something to do with the data being buffered in the phone's memory and dumping out to the internal storage, but without some serious log investigation I'm not seeing what it is.
Your 4K videos are limited to 10 minutes, and will take about six seconds from pressing record until it actually starts recording. This delay is fairly long. I don't know what the start of recording delay is for.
Both issues appear fixable via software updates.
That S Pen tho…
I've found limited use for it. It also likes to eject itself when the phone throws itself toward mother earth. I'm not dissing it, I'm learning to like it.
Connection throughput
Much higher than anything I've run across. I quite often FTP work backup data off my phone to a hard drive on my home's local network, HTC 10 was about 16MB/s peaking at about 24, Galaxy Note 8 is more around 48. Cell speed tests are 2-3x higher presumably due to being able to make use of more bands.
I'd noticed similar when testing the HTC U11. Better chipset, better antenna, better throughput.
Photos, videos, 4K
Proof is in the pudding, here're a couple of 4K videos I shot over Halloween and some downscaled shots I took. Sorry, can't host much in the way of content on the Pocketables servers.
For the video you might want to open up in a separate window and choose 2160p as the connection as with how short these are you may not reach 4K before the video ends.
Following are a lot of pictures taken on the Samsung Galaxy Note 8. Please note that these were taken in the highest resolution possible, but had to be downsized using Image Resizer, then probably were processed by the Pocketables image plugins further. Several images had to be rotated as they show correctly on preview and incorrectly when they uploaded. Furthermore they're resized to fit the blog (click to enlarge).
Some will have comments, keep in mind they're from a colorblind guy who dropped out of a photography major when it was discovered just how colorblind he was.
Above pumpkin suit: you can see down to the individual fibers in the original.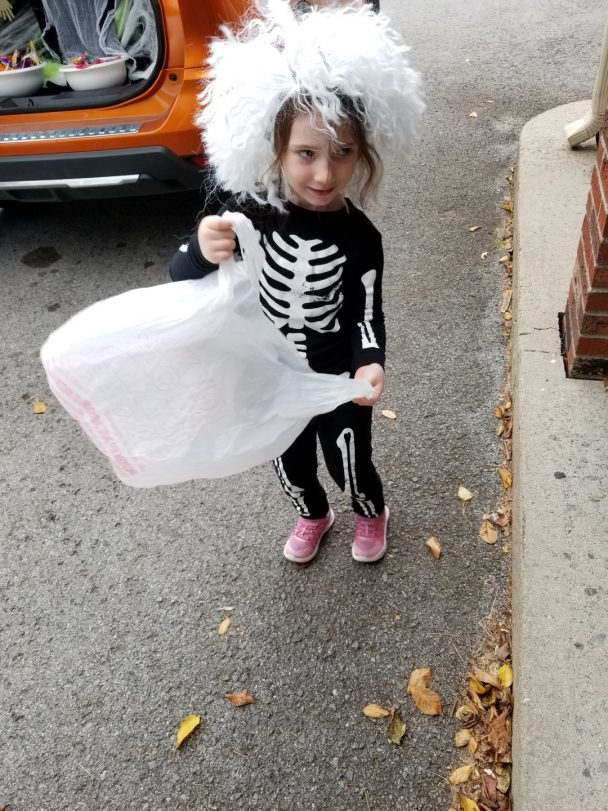 Hair seems to have lost detail, overexposed.
Low light, selfie, arm's a blurry mess, odd streak of light.
Microsoft store, screen is a little darker than in real life. Hair detail missing.
Regular camera (below) zoom lens (above)
Below: Iron Maiden, dark room shot, dancing before winning costume contest.
Holy Pumpkinhead Batman!
Caught the camera having issues with bubbles and lighting. Nothing big.
Above (rotated) random crowd shot, slightly overcast
That's about it. I'd say I'm still trying to figure out if I liked the U11's camera quality better, but so far I'm liking the Note 8 better for overall general quality.
I'll get into some RAW shots soon.