We have looked at several products from Azulle previously and have more to look forward to in the future. Today we're looking at their latest offering for their mini desktops the Byte 3. The previous generation was a good system however it had some pain points in regard especially regarding expandability. The new Byte 3 brings a step forward on almost every front so lets dig in!
First impressions
Looking at the Byte 3 we can immediately see some my initial qualms with the previous model have been resolved. We also see in addition we see some welcome upgrades, including expansion of the microSD slot to full size. There's one very welcome addition in the USB type C port(5GBPS). Unfortunately Azulle is still using the permanently attached wireless antenna . One strange thing  looking at the outside is the USB 2.0 port  facing the opposite direction of 3.0 ports . Business users will be happy to see the continued inclusion of the VGA ports. That said I would have preferred to see this upgraded to a DVI/VGA combo. However that may not have been possible within the space constraints. Mini Displayport would also have been a preferred option. Also new to the byte 3 is IR remote something I can certainly see applications for.
Inside Examination
Taking a look on the inside we have some interesting things going on.  The inclusion of an M.2 2280 and SATA for for additional storage is very welcome. I don't have a m.2 SATA device to test however it's my understanding that both of these are intended to work simultaneously. There is included thermal material for the m.2 drive to assist with cooling. With the drive limited to SATA only I do not see this being a large concern. Although isn't designed to be accessible I did take time to get to the opposite side of the board. The memory is unfortunately soldered although I wonder if this is license driven.
Specifications and comparison systems
Byte 3
Byte 3
Access Plus
Byte Plus
Baseline
As Reviewed
As reviewed
As reviewed
Cpu
Celeron N3450
Celeron N3450
Atom x5-Z8300
Atom x5-Z8300
Memory
4Gb lpddr3
4Gb lpddr3
4Gb
4Gb
Storage
32GB emmc
Samsung
32GB emmc
Samsung +ADATA SE730H
32GB emmc+128gb microSD
32GB emmc+128gb microSD
Audio
Combo in/out 3.5mm
Combo in/out 3.5mm
Combo in/out 3.5mm
Combo in/out 3.5mm
Networking
Realtek PCIe Gigabit ethernet
Realtek PCIe Gigabit ethernet
Axxis usb2 Fast ethernet
Axxis usb3 gigabit ethernet
Intel 3165 Dual band AC wireless+Bluetooth
Intel 3165 Dual band AC wireless+Bluetooth
Intel 3160 Dual band AC wireless
Intel 3160 Dual band AC wireless
Ports
3 usb 3.0
3 usb 3.0
1 usb 3.0
2 usb 3.0
1 usb 2.0
1 usb 2.0
1 usb 2.0
1 usb 2.0
1 HDMI
1 HDMI
1 HDMI
1 HDMI
1VGA
1VGA
1VGA
1VGA
1 USB Type-C
1 USB Type-C
1 Fast Ethernet
1 Gigabit Ethernet
1 Kensington lock slot
1 Kensington lock slot
1 Kensington lock slot
1 Kensington lock slot
In testing we are going to be comparing the Byte 3 to its immediate predecessor. We'll also be using our previous mobile storage test system, an i5-4200u Thinkpad as a reference point. We will be covering several applications where I would expect to see this system used in including signage , video playback , light gaming and emulation , as well as industrial applications.. Industrial applications may seem an odd choice however considering the devices fanless nature it would fare very well in a shop. The lack of air fans means particulate including metallic fibers won't be pulled into the system increasing it's survivability.
Synthetic performance
Geekbench 4 has fully supplanted it's predecessor for synthetic testing on small pc's. Where last years Atom's impressed this years blow them away. The new Byte 3 has moved from below to being capable of competing with Core 2 and older low power i3 and i5 series cpu's. Single threaded performance is still lagging, but considering the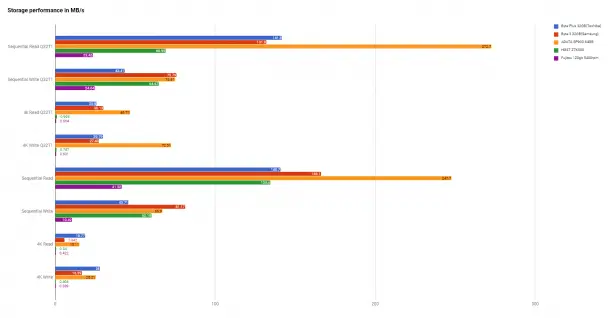 Looking at storage we can see that the new Byte 3 has benefited from a move to a Samsung EMMC device. Although still very clearly in the EMMC module and not a proper SSD it's a healthy step up. The improvements to the device are going to benefit the installation of software along with general responsiveness when working with larger files that need to be updated. The addition of storage options internal to the unit will make many users quite pleased as this could be used with a cheap SSD to create a much more functional small desktop .
Utilmaker Cura
Cura is a 3D slicing application. This means that it is used in the preparation of models to be printed on a 3D printer. Although this step can be done on the same PC that generated the models, it is quite common to in spaces where a 3D printer is shared between multiple systems of a dedicated system to this function. This allows a system to monitor the progress of the model as it is printed and to make adjustments and tweaks on the fly without having to go back to a primary production system.
The first model that we generated is a simple sphere. As you can see although Cura has some questionable design choices with its automatically slicing on every single setting change the Byte  3 no issue keeping up with it. It very easily generates and allows manipulation and rotation of a model in order to print this 1 inch diameter sphere. Taking a look at the more complex model which was designed to stress the system you can see it take some additional time. However it still performs more than adequately at this task feeling comparable in smoothness to performing a similar task on my laptop a ThinkPad yoga.
Office applications
I took time to use both Microsoft office 2016 and the latest open office on the Byte 3. I ran trough editing some larger spreadsheets(our SSD database) and well ad some generic word processing. The Byte 3 impressed at such tasks with my only thoughts being it could use more room than it's default internal storage. The same was true of simple picture and video manipulation. The byte 3 is not a system I'd want to edit 4k video on regularly but for chopping up the occasional video it does surprisingly well thanks to hardware support for a wide range of formats(including h265) spitting out a 4k to 1080p crop inside of 10 minutes.  Pictures in gimp and zoner photo studio(which I use on my workstation for the photos you see in my articles) were easy to edit although more demanding filters and layer use can certainly tax it's cpu.
Gaming performance
As far as games are concerned I acknowledge that the Byte 3 is not equipped with a dedicated graphics card. However  it should have no issue performing adequately in older and less demanding games. Things that one may keep a older  PC around for such as light emulation and a children's PC are more than within the realm of capability for the Byte 3 especially if it's storage is augmented.
Minecraft
Minecraft maybe ironically the newest application in our suite is it's received constant updates since its release was most recently updated insert date here for the world of color update. Running on a Minecraft we can see the Byte 3 has little issue keeping the frame rate to a reasonable level at 1080. We see it's bouncing around 30 frames per second although this plummets when I try to jump to 4K . On HD and full HD screens the Byte 3 will have no issue running the full Java-based version of Minecraft. On a side note in a multiplayer environment I would suggest using a larger system as the host server .
Homeworld 2 Remastered
Homeworld remastered represents a three dimensional real-time strategy game and is going to tax almost every function on the bite three . Graphically it seems to have detected the Intel HD graphics and turn quite a bit of the eye candy down or off although that hasn't left the models unpleasing it anyway, from a performance perspective I had no issues playing through multiplayer match the giving of the AI a bit of a trouncing . Performance in Homeworld feels smooth , I unfortunately don't appear to have a frame rate quote for Homeworld. Although it appears limited to the refresh of the panel not what the Byte 3 can handle.
Startrek Online
Startrek online represents a modern MMO in our suite.   The game revived a major graphical update between now and when we looked at the Byte Plus. It appears that this update really puts the hurt on smaller chips like the atom in the byte3 and byte plus. I gave it a run on both systems(although the video above is just the Byte Plus) and while the Byte 3 is playable it's not a pleasant experience unfortunately. This isn't Azulles fault it's a poor decision on the developer side when other (more graphically impressive) games work just fine. At 720P the game was more tolerable, I feel like it still needs a little more punch to recommend the Byte 3 for this however.
Retro gaming
Project 64 and our video recorder unfortunately didn't cooperate with each other. However in practice 5th gen(Nintendo 64, PS1 ect) and older consoles seem to run just fine on the intel chip. Taking a peek at the results it seems that there's a bit of performance left on the table with only 2 cpu cores loaded by most emulators however that isn't enough to handle later systems(like the gamecube) at a rate higher than flipbook. Still that leaves the Byte 3 an excellent choice for building emulation systems.
Video
Unlike it's older sibling the Byte 3 officially supports 4k decoding. In practice it handles this quite well for both local content and network based streams coming from a Plex server. Thanks to the increased cpu performance the Byte 3 can serve 1080P content for a single stream easily. With server software that supports the hardware decode using the IGP the Byte 3 could serve 4k content but that isn't available in current builds of plex without Plex pass.
Final thoughts
Looking at it, and looking back at the Byte plus Azulle hit most of my major problems and has delivered a very well rounded product. Storage is expandable internally, the card reader grew into a full size(although is still UHS-I) and we have more ports(never a bad thing) in an overall similar profile. Going forward I'd love to see Displayport make an appearance as a primary connector, technically the cpu supports 3 digital outputs I'd love to see them used. Adding CEC to the HDMI port by default would make this device a defacto choice for media centers. Through testing I believe Azulle has delivered the best device possible within the constraints of a fanless system under 200USD. Going forward I want to see more as always features like power using USB-C in place of a barrel jack come to mind right away. For children doing school work, Signage applications and office work you'd be hard pressed to find a better value especially with the inclusion of a windows pro license. The Byte 3 Is available for 199.99 today on amazon.