Houzz Adds Augmented Reality to Its App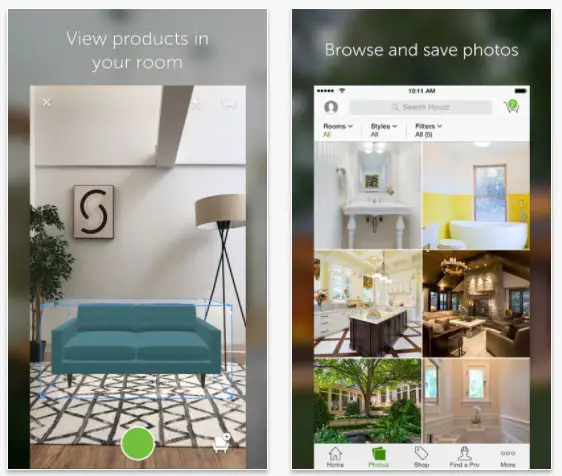 Even though we're not even two decades into the 21st century, we've already seen some amazing technological breakthroughs during this time.
From the dawn of mobile computing to virtual reality (VR) and, as a byproduct, augmented reality (AR), software developers have more tools — and a broader toolbox — than ever before.
Pushing the Limits of Modern Technology
Houzz recently upgraded their app to an early form of AR. Known as "View in My Room 3D," the software makes it even easier to shop from home by letting consumers view accurate, high-resolution 3D models of more than 500,000 different pieces of furniture. But that's only the beginning.
What makes this an AR system is the fact that shoppers can use the app to insert a virtual representation of their desired furniture into a snapshot of their living room, kitchen or any other area of the house.
The new upgrade includes even more functionality by letting users manipulate the furniture in real-time. Not only can consumers arrange and rotate individual pieces of furniture, but products can be scaled to different sizes, too.
Users can repeat this process indefinitely. You don't have to settle for one piece of virtual furniture. Instead, you can mix and match any of the pieces to try out new designs and styles or to coordinate new purchases with your existing belongings.
A Complementary Utility
All of the features included in "View in my Room 3D" stem from the Apple ARKit augmented reality development and programming platform. The system itself is still in its infancy. It was introduced in mid-2017 and right before the Holiday season — which happens to be a great time to perform interior house renovations like painting and redecorating.
It's also important to note that all of this new functionality comes on top of the useful features already seen in the Houzz app. This includes:
Shareability: Houzz makes it easy to take snapshots, save them in a virtual scrapbook or share them with your friends, family members and colleagues. Users also have access to the scrapbooks and photos of others, which leads to even more inspiration and encouragement.
Guidance and advice: With an extensive online community already established and more people joining every day, there's no shortage of guidance or advice from our customers, employees and experts.
Access to professional services: The Houzz app locates qualified professionals in your area, including contractors, architects and designers. Users can filter results according to overall reviews, budget restrictions or style requirements.
Shop from the comfort of your home: Apart from the newly introduced AR features, Houzz lets you browse hundreds of thousands of other products for the home — from the comfort of your home.
Houzz is a comprehensive, one-stop shop for nearly all of your home product needs. Whether you're on the hunt for that perfect couch or you're browsing paint ideas for your newly renovated living room, the handy Houzz app probably has a solution for you.
Try It for Yourself!
For new and existing users of Houzz, the introduction of AR provides a whole new level of functionality. Never mind the modern luxury of shopping online. Houzz's clever use of technology has managed to make a relaxing pastime even more comfortable and enjoyable — whether you actually plan on purchasing something or not.
If you're an Android user, head over to the Google Play Store or the Amazon Appstore for Android and try out the new and improved Houzz app for yourself. Windows 10 users can also download the Houzz program from the official Microsoft Store.
Apple and iOS users can download their version of the all-new Houzz App through the iTunes Store. The software is compatible with select versions of the Apple iPhone, iPad and iPod Touch.
Regardless of which version you select, the utility itself is free to download, install and use. If you're new to virtual or augmented reality, or if you've never seen the technology in person, this is a great opportunity to do so — you have nothing to lose.