JBL Link 300 Review – The Premium Google Assistant Experience
Pocketables is no stranger to the Google Home and its Google Assistant and we've certainly discussed the issues with Assistant. But the Google Assistant has gotten better and I, for one, really enjoy it. I've gone all in with Google Home, replacing Alexa devices with two Google Homes and  a Google Home Mini. So when JBL offered to send a Link 300 (and Link 10 – review to follow) for review I jumped at the chance.
GOOGLE ASSISTANT USE CASES
This isn't a Google Assistant review but I did want to give an overview of how I use Google's Assistant. The primary use case for my family is music. We'll tell the assistant to play music from our Google Play Music subscription. We use it occasionally with Pandora. It's amazingly convenient and its ability to set groups of speakers mean that filling the house with synced music is a breeze. It's really transformed the way we listen to music at home. The Link 300 is great for podcast listening, too. I work from home so it has really freed me to move around the house without having to pause the podcasts I listen to.
Another big use in my house is thermostat control. The smart thermostat we have works with Google Assistant so a quick "Hey Google, set the thermostat to 70" from anywhere in the house will adjust the temperature. It's amazingly useful, especially at night when we're already in bed but need to make the house a little cooler.
The third major use for us is cooking. We use Assistant via Google Home devices for recipes, unit conversion, and timers. We use timers all the time. "Hey Google, set a turkey timer for two hours." "Hey Google, set a stuffing timer for 45 minutes." It's really augmented the cooking experience.
All that is just to say that we use Google Assistant and our Google Home devices quite a bit. So any new device like the JBL Link 300 has to fit into our current use seamlessly or it won't work for us.
ON TO THE JBL LINK 300
The JBL Link 300 is much larger than the standard Google Home. It's approximately 10x5x6 inches (actually 236mm x 134mm x 154mm) and is shaped like an oval cylinder.It's a sharp looking device and is covered in a fabric weave (nylon?) that is typical of JBL Bluetooth speakers. The unit I received for review is black, though it is also available in white. Based on the pictures on the JBL website I think the white version is the more attractive of the two, but the black is not ugly by any means.  The top is where the buttons for play/pause, volume, etc are. Around back is JBL's signature bass radiator for visualizing how bass-y the speaker is.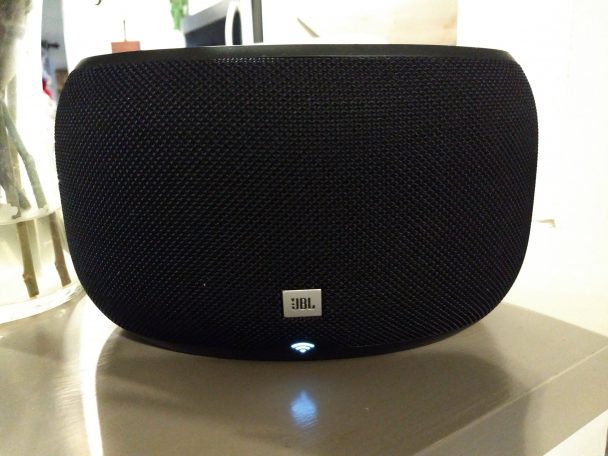 The JBL Link 300 is the first third party Google Assistant speaker I've used. I was a little unsure how it would work and if it would be a crippled experience. In short, the Link 300 works great. It sounds amazing – much better than the Google Home. The active mic is plenty sensitive. It can hear me from across the room, even when music is playing. In this respect, it is very similar to the Google Home. You can connect to the Link 300 via Bluetooth (supports rev 4.2) and use it a standard Bluetooth speaker if you'd like. You can also use stream to it using any Chromecast enabled app. All in all, it's a great sounding device that meets you wherever and however you want to use it.
That isn't to say that it's perfect. There is at least one major limitation. The Link 300 cannot make phone calls. The phone call feature was added to Google Home devices a few months ago but trying to initiate that feature on the Link 300 results in an error – "I'm sorry, I can't make phone calls yet." To be fair, this limitation exists on all third party Google Assistant devices. If this is a feature you use I can see it being a deal breaker. To me, it's a minor thing. I've only ever used the phone call feature for testing purposes.
Another niggle is the volume changing experience. The Link 300 has 48 distinct volume levels. That means you have to tap the volume button an insane amount of times to make a noticeable difference. You can hold the volume buttons down to speed things up, but its not an ideal solution. In my opinion, 48 volume levels might be a little overkill.
CONCLUSION
I think the JBL Link 300 represents the best value in the Google Assistant speaker market today. For $199 (regularly $249, but on sale for Christmas) it is an excellent deal. It is quite a bit less expensive than the $400 Google Home Max. I'll admit that I have not heard the Max, but I cannot imagine it being $200 better than the Link 300.