myCharge Adventure Jump Start 6600mAh car jumper and power bank
I hesitate to call this a full review as like most of the other jump starters we review I can't test it completely until I have a dead car on premises so we'll just talk about what it does, what I tested, and when we have a dead car on site I'll hook it up and it'll start and I can say it's good.
myCharge Adventure Jump Start specs
6600mAh battery
Micro USB and USB charge ports
200AMP, 400AMP peak jump starter
0.43lbs
detachable jumper cables
3.1A total USB output or 2.1amp max per port.
So what can this do?
the myCharge Adventure Jump Start will start most cars. It's probably a little light for larger vehicles so if you've got something huge skip it. Charge most flagship phones from dead to full two or three times. Standard USB charge two devices at a shared total of 3.1amps.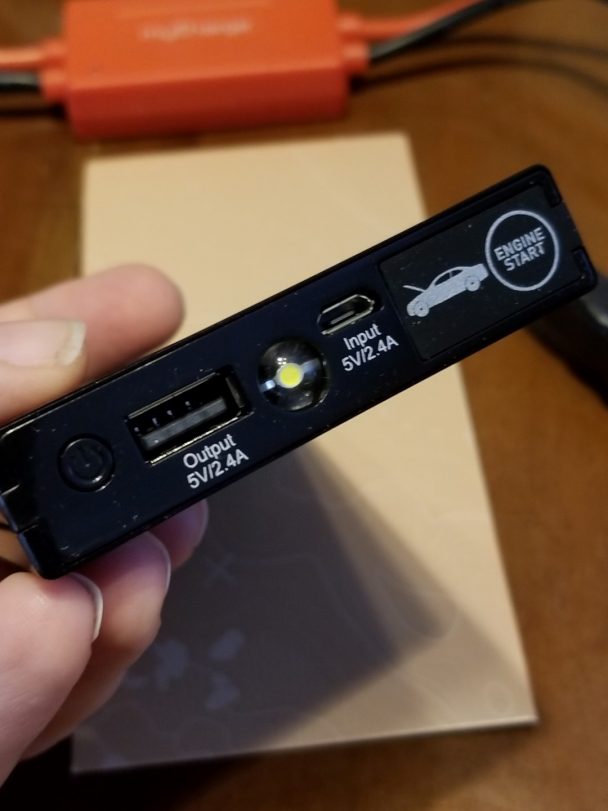 I'm kind of unenthusiastic about this one
Don't get me wrong, I've never met a myCharge product I didn't like and they've got an amazing track record with me, but the price they're asking is $99 for a 400peak amp 6600mAh charger that is a battery and a detachable jumper cable.
Let's contrast – while I don't know that I trust the batteries as much as I'd trust myCharge's selection, you can get double the peak amps, 3x the base battery, USB-C fast charging both directions, carrying kit, wall charger, USB-C cable, 12 volt adapter to power your devices, and a carrying case to keep the thing unblemished while in your car, for the same price.
The myCharge Adventure Jump Start you will note has no included method of charging it other than a MicroUSB cable. While this is not a deal breaker, for the price I would hope there would be some method included or some additional function of the battery.
Basically this device would have been absurdly cool about a year or two ago, now it's sort of been passed by others that have packed it very well.
So that means…
I'm suggesting that you skip this until the price is more in the $40-50 range. If you're looking at it on a shelf in a store right now because you need it, it'll do you right, but if you can wait a few days there are much more full featured devices fo the same price.
Sorry myCharge, I love your products but this is not quite on target.
Availability
You can pick these up wherever myCharge products are sold, or on the myCharge website.