QICENT 7 Port USB3 Hub, does double duty as Monolith from 2001: A Space Odyssey
tl;dr; This is an excellent hub, that actually follows the specifications and certifications, and a great buy at $38 for a hub backed by an 18mo warranty, and excellent construction! It also reminds me of Tycho Magnetic Anomaly-1 or Monolith from 2001: A Space Odyssey and is proving as sturdy!
---
Up until a week ago I've been living with a 3port+ethernet and a 4port USB3 hub hanging off each side of my machine, this was less then ideal, particularly as I use removable media including bus driven 2.5″ drives. What you see above is not a stock photo, but the solution to a media or photo junkies dreams.
The front of the unit provides 4 Full size USB3 ports, while the back has 3 ports, and the USB3-B uplink plug. It also features a power button, as this unit draws power from a wall-wart and takes in 12vDC on a barrel jack.
The USB portion is lightweight but sturdy plastic, while the base is extremely heavy  metal particularly given the size. It is also wide enough, that I have not knocked it over either by accident, or while trying to jab in a thumbstick. In short, it is might sturdy and well designed.
As has become the norm for internet peripherals, the packaging is black ink on a brown box, the layout of the box is attractive and the components well protected.
One interesting choice QICENT made was the use of an adapter on the wall wart which you can see in the lower right picture above, and accessory spread below.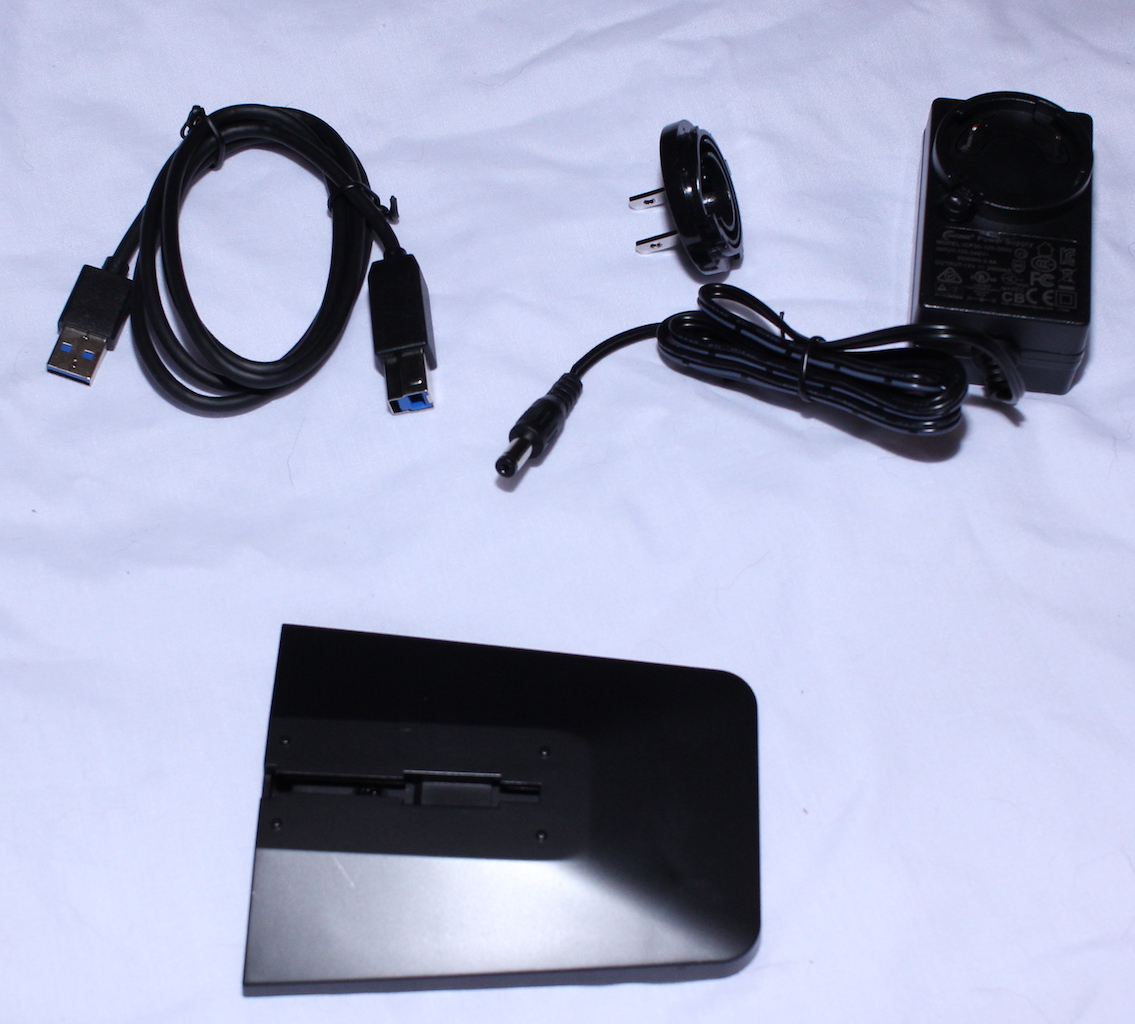 The tower/monolith slides into the base firmly, and shipping them seperately, and even in seperate compartments prevents and damage to the tower especially to the connection between the base and the tower. The rubber feet are grippy, and the tower and base feel well proportioned.
I have not been able to overwhelm the unit. With 4×2.5″ drives hanging off it, a thumbstick, and a Lexar UHS-II SD card reader all four platter drives are happilly spinning away, with no hickups.
So far I am extrmely happy having not just 7 ports in one place, but the additional power input. I previously had to hang drives off each side, as well as keep in mind whether I needed to unplug one, rather than have it unmount at an inoppurtune time.
I have to say again it is a very well designed base system, plenty wide and heavy. At 7 inches tall and jet black it is easy to access yet unoptrusive. I have a wood grain desk laminant desktop and it basically disapeears. There is also very little chance of knocking this over, though I can't make that promise if you have a determined cat. The single LED on the front indicates wether the unit is powered on. I also like that they chose a muted deep blue, and set it back in the case so you don't have a blaring bright light that you will eventually tape over.
QICENT backs this product with an 18mo warranty. Each port is BC1.2 certified to provide 2.5A when charging, 1.5A to devices doing data transfer, and ~1Amp to "dumb" devices. Device passthrough to virtualbox from MacOS to a Linux Guest was seemless. Without an SSD in an enclosure I can't test the true line speed, but I am able to write to multiple platters at the same time maxing out the platter speed.
The QICENT vertical 7 port hub is currently listing for $37.99 with a 10% off coupon, a very reasonable price for the number of ports you get, the injected power, and that QICENT actually certified the USB3.0 and Battery Charging Specification 1.2 (1.5A) for the unit! You are purchasing a product that in my short experience leads me to believe it will last far longer than the 18mo covered by the warranry.