Skullcandy Hesh 3 Wireless Review – Surprisingly Good
Bluetooth headphones seem to be growing in popularity alongside the rise of headphone jack-less smartphones. That said, I'm back again to review another set from popular brand Skullcandy, the $130 Hesh 3 Wireless. The Hesh 3 Wireless set is of the over-the-ear style and is available in black, red, blue, and gray.
DESIGN
The Hesh 3 is remarkably plain to look at. The unit I received is the black version and it is black plastic all over, except for a small strip of aluminum on the band that is revealed when the headphones are extended. In my opinion, that plainness is actually an advantage. I am not one for flashy, garish headphones. But tastes vary and others may find the plain look of this set boring.
Moving on from appearance, the Hesh 3 is quite comfortable to wear. The ear pads are soft to touch and well padded with memory foam. The pads fit perfectly over my ears, completely enveloping them. They are comfortable enough to wear all day without even the first hint of ear fatigue. Of course, head sizes and shapes vary so you're experience may be different.
The right ear unit contains controls for power and volume, a port for charging, and a 3.5 mm jack for connecting to devices that are not Bluetooth enabled. The included 3.5 mm cable is a nice addition. The buttons are rubbery and easily distinguishable. Both ear units fold up for storage and transport. In general the materials do feel somewhat cheap.
PERFORMANCE
I wasn't expecting great things from the Hesh 3's speakers but I'm actually quite pleased with how they sound. The first word that came to mind when thinking about the sound quality was ethereal. There's some sort of 'magical' quality to the Hesh 3 that makes them sound better than they have any right to. There's an excellent balance between highs, mids, and bass. They aren't too bass heavy but have just enough to support the music styles I generally listen to – progressive metal, classic rock, crooners, and Christmas. Fans of other genres may want more bass punch but I found the balance to be just right. Sound does degrade a bit when the volume is near or at max but I can't really knock them too much for that as max is too loud for comfortable (or safe) listening anyway.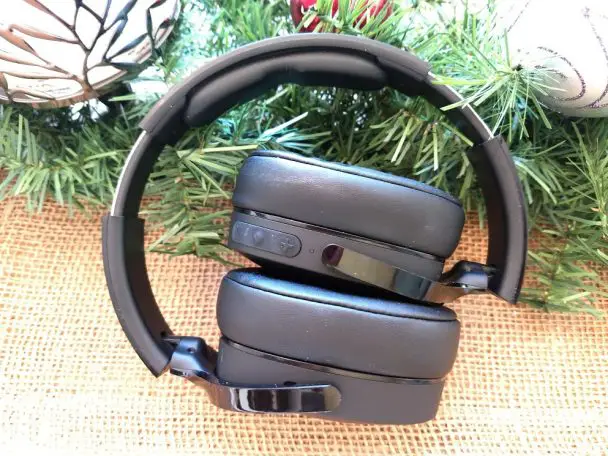 Skullcandy claims you'll get about 22 hours of battery life off a single charge. That's a hard claim to measure because who can use headphones for 22 hours? What I can say is they will last an entire work day and then some.
The unit that I received for testing has held up well for the month or so I've had it. There are no scratches or rips. Time will tell how they hold up in the long term but so far I have no complaints.
CONCLUSION
I didn't expect much from the Skullcandy Hesh 3 Wireless so I am surprised at how much I like them. They are comfortable, sound great for the price, and not too expensive. There are a couple of knocks like build materials and price (I think that $99 would suit them just right). Overall, however, Skullcandy has a winner with the Hesh 3 Wireless. They get a thumbs up from me. They are available from Amazon and other retailers for around $130.