BLU VIVO X Review – A Very Good Budget Flagship
BLU is known for producing relatively high-quality phones for relatively low budgets. The VIVO X is something new for them. Their marketing team calls it a flagship phone and it certainly is relative to the other phones in their lineup. It isn't a Pixel 2 XL or a Galaxy S8 but it does feature a 6 inch 18:9 display and some nifty tricks that make it just about the best low-cost ($250!) phone I've tested. Keep reading for all the details.
DESIGN
The first thing that stands out about the VIVO X is the elongated six inch screen. It's 18:9 (2:1?) aspect and 80% screen-to-body ratio places this phone squarely in 2018 and does wonders to make the phone feel modern. It has narrow side bezels and trim top/bottom bezels, as well. The Gorilla Glass 3 covering the LCD is curved slightly at the edges, though the LCD is flat, giving it a premium feel and look. The body is all-aluminum and perfectly thin at 8.2 mm. The thing just feels great to hold. The thickness to heft to size proportions are just spot on.
Above the display are dual selfie cameras and an LED flash. The volume rocker and power button are on the right side and the combination SIM/SD tray are on the left. All of the corners and edges are nicely rounded. The phone is very comfortable to hold and definitely feels like a premium device.
The back of the device is an aluminum sheet with a nicely embossed BLU logo. There's a fingerprint reader right where you'd expect it to be about 3/4 up the phone. There is also a dual camera setup on the back.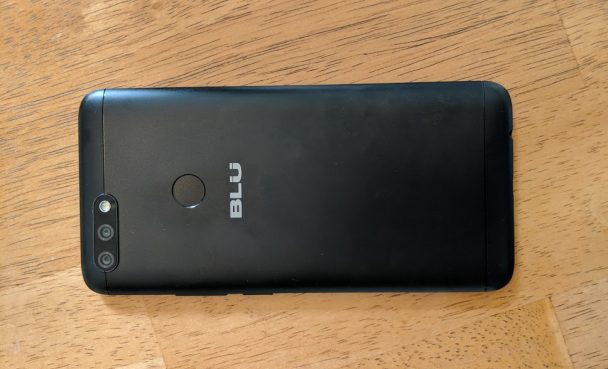 PERFORMANCE
The VIVO X is, as typical with BLU phones, running on a MediaTek platform. Specifically it is the MediaTek Helio P25 octa-core system clocked at 2.6 GHz. There's 4 GB RAM and 64 GB internal storage. You can add an additional 64 GB storage via microSD.
Swiping around and navigation are smooth. Every touch and swipe is registered properly. It doesn't approach Pixel 2 levels of responsiveness but it does an admirable job. Another thing to note is the fingerprint reader. It's fast. Like Moto Z2 or Pixel 2 fast.
Geekbench 4 scores the VIVO X out somewhere in the Galaxy Note 5 or Galaxy S7 range. That's honestly not bad for a phone that costs $250 and is the best scoring BLU phone I've tested to date.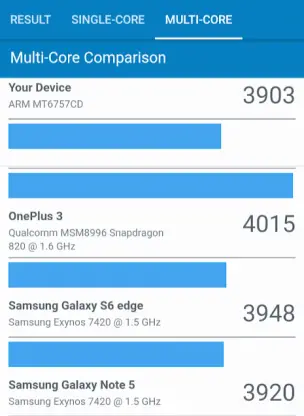 The non-removable battery weighs in at an admirable 4010 mAh and will get most people through the greater part of a day.
DISPLAY
With any phone in this price range there will be compromises. The screen is the first one on the VIVO X. Specifically, it's the resolution. BLU calls the resolution HD+. It's a 720×1440 6 inch LCD panel at 268 PPI. The best way to think of it is as a stretched 720p display. It doesn't look bad. In fact, I was surprised at how "not bad" it is for most applications. But it would be nice to see a little higher resolution screen.
SOFTWARE
The VIVO X is another BLU device with a minimal skin on Android 7.0, though there are a few notable differences from vanilla Android. Most notable, for me, is the iPhone-esque swipe up from the bottom of the screen to reveal the control panel. I just don't understand this need to ape Apple on things that are handled better natively in Android. There's also the standard BLU features like MiraVision that allows you to punch up (or down, I guess) the screen saturation a bit.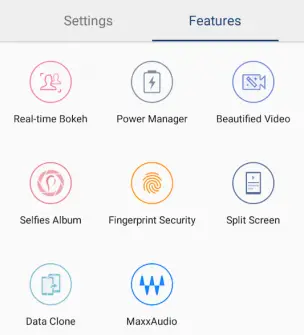 One place you'll want to head in Settings is the Full Screen module where you can choose which apps use the entire display. By default, some apps will behave as if they are on a 16:9 screen and show black bars at the top and bottom of the screen. Forcing them to fit the entire screen works great, for the most part, and if you come across an app that doesn't play nicely you can simply untoggle the full screen feature for it. One mark against this feature is that when apps update, they need to be toggled back on again.
CAMERA
The camera is a special point of emphasis for BLU on the VIVO X. It's the first phone I've seen with dual cameras on the front and back of the phone. It's a neat feature that allows for iPhone-like 1X zoom and bokeh affects. The front camera array is 20 + 8 MP with an F2.0 aperture. The rear features 13 + 5 MP, F2.0 shooters.
That said, the camera isn't great but it does a mostly good job. The optical zoom feature is fantastic but bright colors do get a bit blown out. They come out looking a little fuzzy. There are plenty of effects built into the camera app like panorama, beautify, slow-mo, GIF, and more.
This slideshow requires JavaScript.
CONCLUSION
The VIVO X is a nice step forward for BLU. They've added features not normally seen on budget devices like the 18:9 screen and dual cameras while managing to keep costs down. The phone feels premium but won't break the bank at only $250. Check it out if you are in the market for a new phone at a great price.
SPECS
| | |
| --- | --- |
| CPU | MediaTek 6757, octa-core CPU @ 2.6 GHz |
| GPU | Mali T880 |
| RAM | 4 GB |
| Internal Storage | 64 GB |
| microSD Support | Yes, up to 64 GB |
| LTE Bands | 1/2/3/4/5/7/8/12/17/28 |
| HSPA Bands | 850/900/1700/1900/2100 |
| Battery | 4010 mAh |
| OS | Android 7.0 |
| Display | 6 inches, 1440x720, 268 PPI |
| Main Camera | 13 MP + 5 MP with LED Flash |
| Front Camera | 20 MP + 8 MP with LED Flash |
| Bluetooth | 4.1 |
| Fingerprint Sensor | Yes, Rear |