Huawei Mate 10 Pro review, a week in
We're at a week of use on the Huawei Mate 10 Pro and it's pretty nifty, if a bit small for my tastes. This is an offline Mate 10 as I don't have a spare SIM, so factor in this is not a complete and proper review with LTE.
The 4000mAh battery appears impressive on paper but sitting on a desk and not doing anything I'd generally expect the battery to not drain particularly fast (maybe 10% a day.) I'm experiencing about 1000mAh a day wasted with screen off, no SIM, the OS just doing its thing in the background.
Not world ending, but doesn't feel like a battery sipper straight out of the box and pretty much every other device I've ever purchased does. That said, 4000mAh battery is going to make that feel on par with anything you had last year.
It's fast, packs an IR blaster which I've been missing, speakers sound decent, 6GB RAM and 128GB storage means my heart moves for this phone, and primarily on the hardware side it rules.
The 1080p (1080×2160,) screen hurts however. I'm no pixel nazi but … well, maybe I am. Maybe it's the combo of being able to see the camera apparently failing to process some data and seeing what appears to be either odd artifacting of failure to focus on some of my pictures.
Fixable items with a firmware update, but the camera's rendition doesn't feel perfect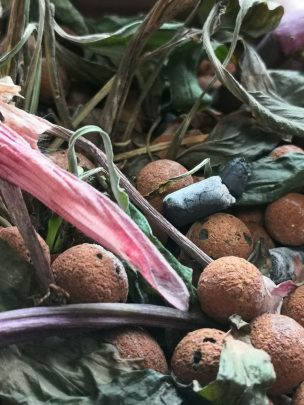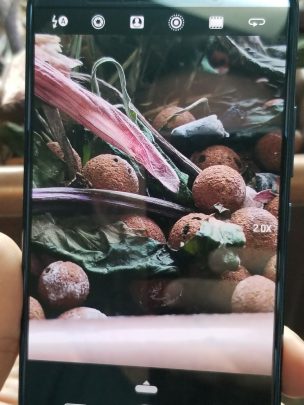 Above: Correct me if I'm wrong, but the picture of the Huawei Mate 10 Pro screen on the right looks better than the picture it took on the left.
Something feels wrong in picture land. Reminds me a lot of when HTC releases a phone and has to play catch up.
The selfie camera is doing something I'm not comfortable with either –
Here's a selfie with my Galaxy Note 8.

That's more or less what I see when I look in the mirror, default settings
The Huawei Mate 10 Pro's selfie's "beauty level" is on by default , my left eye seems to have grown, everything's smoothed, by default I'm not particularly fond of the settings.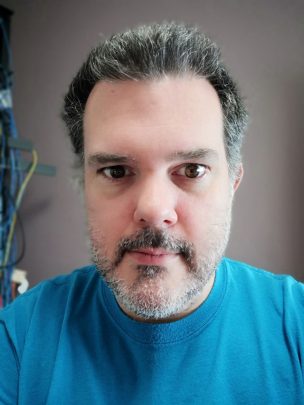 Little more portrait-y with one tap.
The beauty mode seems to be either airbrushed Playboy, or stand-in for Old Man Logan, with not much in between.
So, photos feel like it needs some work to me.
The Huawei Mate 10 Pro Software bash
This does not please me.
I was going to share some screenshots of the non-matching everything, but choosing share to gmail invokes Chrome which gives an oAuth token error. Dropbox for reasons unknown can't see the screenshots directory. Sharing is oddly broken.
I did open Gmail and manage to email them to myself, you can click and see below.
I was tapping around to see what build of Android we were on and discovered the second picture. I haven't played with Oreo yet so maybe that's the included game, I don't know. You can tap it, nothing happens.
First picture not entirely representative, things just don't match. Fourth picture is when sharing launches Chrome instead of Gmail and you get an auth denied.
While I'm not experienced with Oreo yet, something about this feels like Gingerbread combined with MIUI.
Default theme unpleasant to me, but most likely changeable.
Every photo the Huawei Mate 10 Pro produces has been titled based on camera, camera orientation, and zoom level (which is actually just a different camera). If you're wondering what I'm talking about, get any of the pictures to your Windows machine and you'll see titles in the status bar of fbt (selfie) oznar (regular) cof (zoom).
This means every photo I upload from the camera in WordPress has a caption attached to it. Not a big deal for most, but everything had to be edited more to use on the site.
Other reviews
I didn't want to come off negative on this, really not my intent, it's a great phone, I'd take it and root it and install a new ROM on it and never look back and be happy. I decided to check if I was the only one and nope, looks like The Verge had an issue too. Poking around it seems like about 20% of reviewers had issues, appears I'm in that camp.
I'll differ with their review in two places – I'm hearing stereo output regardless of if it's in landscape or portrait (just tilt your head, top speaker and bottom are playing different things,) and the battery life seems average to me.
Overall at week one
Hardware great
Software needs debugging, theme needs edited, something's draining the battery faster than I would have expected, phone's about $150-200 more than I'm thinking it needs to be to survive in the US.
If you want one, they're $799 from Amazon currently.