Sbode Sport waterproof bluetooth runner's earphones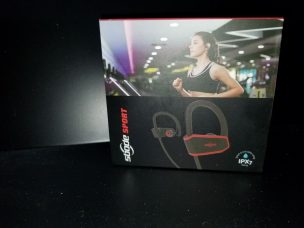 It's got APTX, BT 4.1 CSR, 8ish hours battery and comes in at $17.
The Sbode Sport, let's start and just say it's a pretty good headset for the price. That said, the price is pretty low so I'm going to talk a little about what doesn't quite work for me and why these would not be my headset for sport, but they might be fine for you, and they're fine for non-sport.
I'm going to lead with my complaints, follow it up with compliments, and state up at the top I have no opinion whether you should or should not purchase these but if you do, use our link so I can get some more diaper money (they learn to not pee in the bed at some point don't they?)
Sbode Sport complaints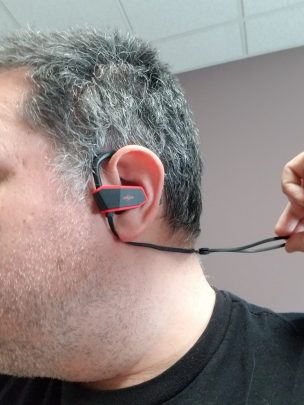 The number one complaint I have about this involves that the connector wire comes out in front of my earlobes. This means if I pull the strap tight that my lobes are being separated from my head skin.
If I run the wiring over the top of my ears, due to the ear hooks it is either uncomfortable or slips down. If I pull the wires straight back and squeeze my ears in the seal that lets you hear bass is destroyed. I have no way of wire management I can figure out out of the box that the seal is maintained, my lobes are not irritated, and I don't have a wire bouncing up and down like a very 90's ponytail I may or may not have had.
Number two complaint probably can be rectified by switching ear pieces, but these are the comfy ones, and that means sometimes I need to push the right ear straight in, and that tends to activate Google Assistant/Siri.
Bass is a little meh, but that may be equalizer fixed. For the price they're fine. Compared to some $90 earbuds I've tried they're not.
Sbode Sport compliments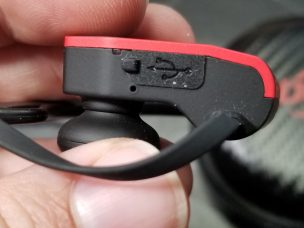 APTX, HD, all the letters and numbers that are good!
I cannot turn the volume up to max. This may be a bad thing. They're absurdly loud. I mean, I can take some volume, but these hurt.
They're extremely hard to dislodge from your ear accidentally.
Sbode Sport claims
IPX7 waterproof
8 hour battery with 1.5 hour recharge
Connects to two devices simultaneously
cVc noise cancellation technology
Selectable EQs to provide bass/treble
So that last one. I've read the documentation, not seeing this. There's no companion app mentioned nor that I can find, no button combo listed to change EQ settings
Overall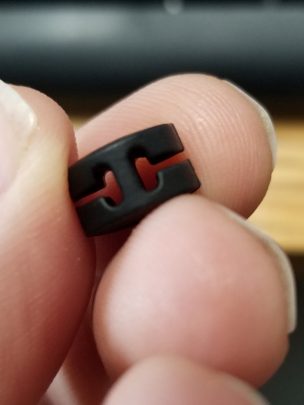 Listening to music is fine, talking to assistant is fine, exercising is not for me due to aforementioned lobe issue (and not just because I'm out of shape,) controls are perfect, they're $17.