Tribit XSound Go Portable 2x6W Speaker review
After finishing up my testing and going to the Amazon page for a link, I saw the reviews of this and froze in my tracks. When you go to a small product with several hundred 5-star reviews and barely anything else there's usually some review purchasing going on. Fakespot's grading their Amazon entry as an F with only 2% of the reviews ranking reliable. My hackles are raised.
But, still, here's a positive review of a speaker that was sent to me unrequested and uncompensated (unless you purchase one through my link).
The Tribit XSound Go is a dual six watt IPX7 waterproof speaker with some really decent bass for the size, a 4400 mAh battery theoretically capable of playing up to 24 hours (that would be at a low volume and connected via audio cable I'm assuming, it's not 24 hours on Bluetooth and cranked).
I'm going to mention I'm having a little difficulty being one of the people cheering this on if they're purchasing reviews.
Most speakers like this I expect a power button, maybe bluetooth on/off, play, next, previous, vol up and down, perhaps assistant button. The Tribit XSound Go doesn't have dedicated next/prev or assistant, but you can long press play to get assistant, double press for next, triple press for prev.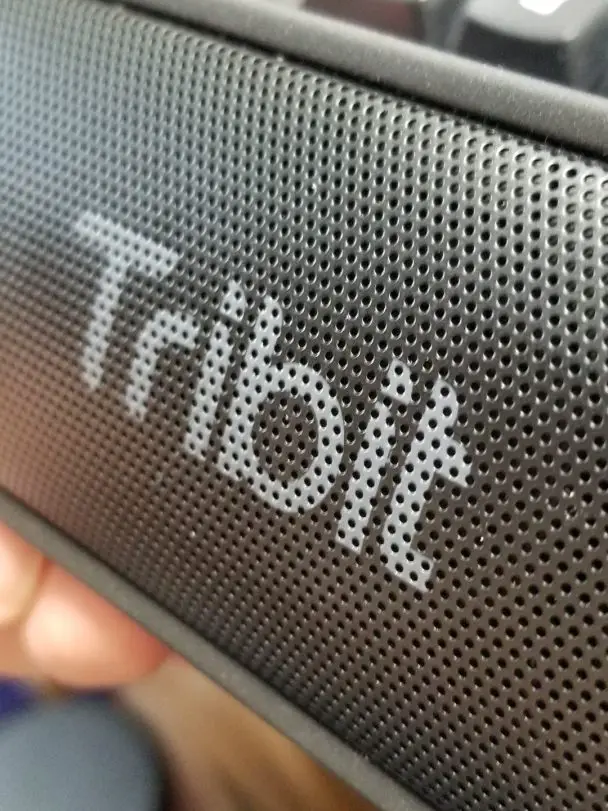 I guess this may be the first speaker I've talked to for album control, which shows how long it's taken for me to get into streaming as opposed to setting up playlists for my FLACs, but it's got no issues hearing me and getting that to the phone for the assistant to work at translating. Much better setup if you're poolside or hanging out in 40 degree rain for a different test that has not much to do with anything.
So, it's loud, it's little, the price is right. I don't know how Tribit's marketing and manufacturing departments interact, but I have no issues with the product and would probably have a tough time not giving it five stars on Amazon were it not that a very large portion of those reviews appear purchased.
Tribit XSound Go Specs
Bluetooth 4.2
2x 6W speakers
0.84lb/381 grams
1A 5v charging (~5 hours charge time)
Playtime range: 6-24 hours
6.7″ x 2.3″ x 2.2″
66 feet potential range. Tested in WiFi/Bluetooth active office to about 43 feet.
Dislikes
I can't the the volume down low enough. I doubt that's going to be on most people's radars, however I'd like to chill with some low volume music at work and this is like just slightly too loud on its lowest setting for what I'm listening to. I'm wondering if this has something to do more with the Galaxy ROM as I've noticed this on other audio devices.
Charge time for a 4400mA battery at 1amp max is over four and a half hours. Would really be nice if they'd invested in higher amp charging.
Something with the grain of the case seems to attract dirt. Luckily you can just wipe it off.
Overall
I'm really impressed with this little beast. Reminds me a bit of my first experience with the HMDX Jam. It's loud, sound is very well crafted from such a tiny little body. Still wary of the Amazon reviews, but that could be an overzealous PR department, or demons. Who knows. I like it.
If you grab it on Amazon check out Wikibuy and see if you can't grab a two dollar off coupon (that was running active this morning)
Available on Amazon for $32.99
I was contacted after posting this by Tribit asking why I didn't like their product, I responded that I did but I don't like the reviews they or their marketing people have purchased. So yeah, once again, really good speaker, looks like bad marketing choice on the Amazon review side (seriously, who gets 208 5-star reviews – it's Amazon, people take stars off if the product was delivered early)