FLIR One Pro thermal camera review
About two years back you may remember we reviewed the FLIR One for Android. In the interim they've developed a newer version dubbed the FLIR One Pro. It adds some neat features over the two-year-old version.
I received the USB-C version of the camera which eliminated problems I had with the last unit/previous phone. It used to be possible that the FLIR could be oriented the wrong direction. The current USB C and Apple Lightning connector versions you can't get stuck pointing it the wrong way.
They still have the Micro USB FLIRs, and they may be rotatable, but it's not something I'm testing.
What does the FLIR One Pro do?
It gives you about 4-8 frames a second image of what the heat around you looks like. The FLIR One Pro includes an on-board camera to combine thermal and real images. This lets you know what you're looking at. Seeing an area is hot is OK. Seeing an area is hot and the wall plug is what's causing it is way more useful.
The Pro version appears tougher than the last model we reviewed. It has an adjustable connector for thicker cases, an expanded temperature range, and appears to have higher resolution.
It now allows you to monitor up to three areas on screen for what the temperatures in that area are. I checked the older FLIR One and it does not appear to handle multi-spot in the app.
All the FLIRs I've tested have their own rechargeable battery so you're not draining power from your phone.
FLIR One Pro vs FLIR One
Images below are from the two-year-old FLIR One (P/N 435-0003-01-00) and the FLIR One Pro USB-C edition. You'll note in the pictures the FLIR One Pro has three zones set up that tell the temperature.
The zones are a square, a circle, and the pinpoint in the center. I believe you can move these around to see the average temperature in any area on the screen. Unfortunately I forgot to bring the FLIR One Pro in today, so I'm limited to the old version. Maybe you can't move them.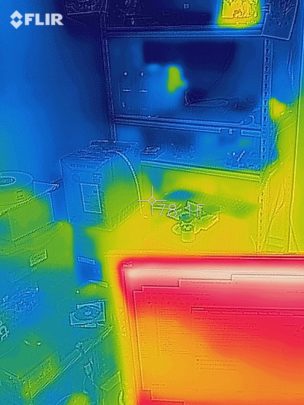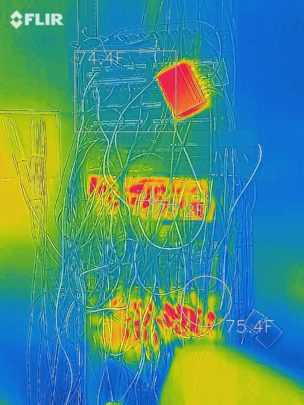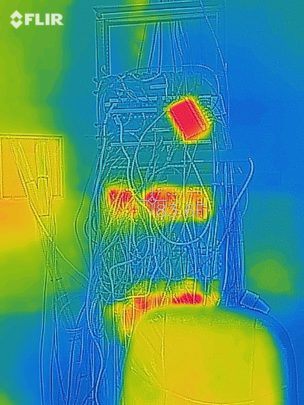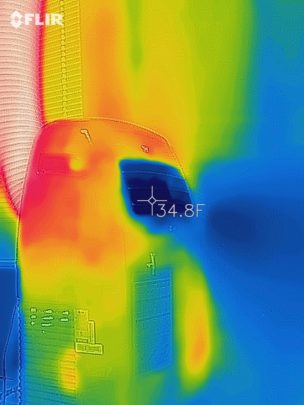 For the average user I don't think the Pro version is going to be required. The Pro is probably actually for professionals.
The FLIR One Pro in use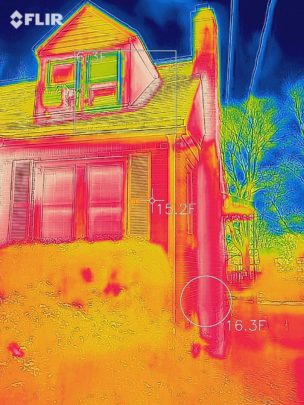 As I'm not a professional HVAC tech there's not a lot that the multi-spot helped me with that couldn't have been done with the standard FLIR One I had. It was useful when looking for heat leaks to set up the zones rather than moving the camera. This was something I could probably have done without however.
That said, I'm not a professional HVAC or insulation person. I'm sure that's extremely useful if you're wanting to set it up and do time lapse photos.
This particular time with FLIR's products I found a heat leak that I hadn't caught before. Discovered my chimney flue is shot/non-existent.
Have a few insulation projects. Discovered one of the power supplies at work is 15 degrees hotter than the rest. Looked at my tires to see hot spots (where tread is getting used hard.) And got a great understanding of the multi-point heater array that is my server room.
Wrap-up
The Flir One Pro is rugged, comes with a decent protective case, and does everything I want in a thermal camera. As I'm not an HVAC technician, I think the pro is a little overkill for me. However it looks a lot tougher than the previous model, so that extra $100 may be a worthy investment.
The FLIR One Pro is available in three flavors: Android USB-C, Android MicroUSB, and iOS. Currently the iOS offering is priced about $54 less than the Android compatible versions.
Should you not want the Pro version's features, last year's models are coming in at about $150 less fora  slightly less robust and less hardened camera.