Incipio iPhone X Case Roundup
It seems like when it rains it pours for me at Pocketables. And I'm in the middle of a deluge of coverage of new phone cases from some of the top names in the market like OtterBox, Incipio, LifeProof, and others. Today, I'm showing you a couple of options from Incipio for the iPhone X.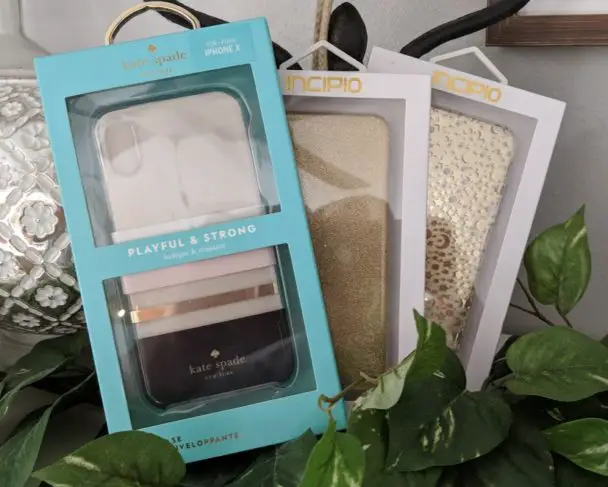 INCIPIO DESIGN SERIES
Incipio was kind enough to provide two cases from their design series. These cases are available directly from incipio.com for around $25 but smart shoppers will turn to Amazon where they can be had for under $20. The iPhone cases I received are decidedly feminine but there are more masculine options available (my favorite being the Carnaby – more on that later).
At first glance, the Design series cases appear to be garden variety TPU cases but there are a couple of distinguishing bits to them. First, the plastic that Incipio uses is more robust than the average $10 Amazon special. The back panel is stiffened so that the case doesn't feel like a wet noodle. It's actually quite rigid. There's just the right amount of give when pressing against it.
Another place where Incipio succeeds where generic cases often fail is button interactivity. Buttons respond perfectly through these cases. There's nothing mushy or difficult to use about them. It sounds like something minor until you think about how often you use the power button.
Finally, the designs are beautiful. That's subjective, I know, but I think the target market for these cases will approve. The Cosmic Metallic case sparkles with metallic foil that catches even the slightest light. The pattern is dense and just looks like luxury. The same goes for the Champagne Glitter case but it's amped up. It is easily the most reflective, glittery case of its sort that I've seen. And I've seen a lot of them over the years.
KATE SPADE SERIES
Kate Spade New York is one of the hottest designer brands for women and Incipio produces a line of Kate Spade branded cases for the fashion company. I've spent what seems like **years** inside of Kate Spade stores and outlets in the last few years and my wife has bought many Kate Spade cases for the different iPhones she's owned. I've always been impressed with the quality of the cases so I wasn't surprised to learn that Incipio is the OEM behind them.
In general, the cases are bold and bright. Some are shaped like monkeys or cats. Others are more traditional and feature the well-known Kate Spade logo and stripes. The case that I received is the striped variety, featuring black, gold, and pink. And every woman that I've asked for an opinion from has loved it. The build quality is very similar to the Design series – sturdy TPU, snug fit, perfect buttons, and comfortable to hold.
The cases aren't sold on incipio.com but you can find them in stores, on katespade.com, and on Amazon. They are a little pricier; typically $40 – $50.
CONCLUSION
Incipio is one of my favorite case brands. They offer a lot of value and always, in my experience, deliver quality products. And there are a ton of options available from them. Check them out on Amazon or Incipio's website.