Looking for sports wireless headphones? – Aukey EP-B40
The list of Bluetooth headphones I have reviewed grows longer and longer each year. The Aukey EP-B40 has been waiting patiently for me to be able to review it. I needed to get back to the full health before I could test it properly. I didn't expect much from the inexpensive pair like this but turns out I was rather pleasantly surprised.
Aukey EP-B40 – review
The box offers everything you would expect – a charging cable, some spare pads and a manual. There are no revelations there. The Aukey EP-B40 design isn't flashy, the black buds will blend in no matter what you wear. All this unexceptional starts leads to a nice surprise when it comes to the sound.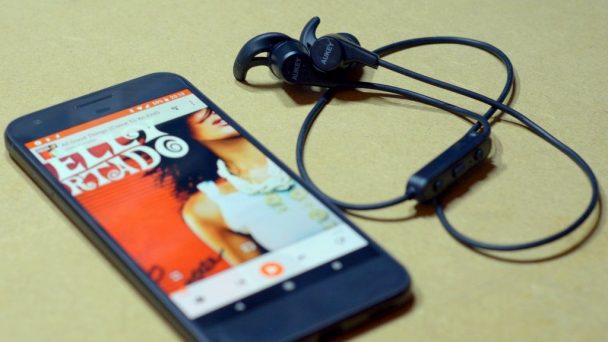 Sound
I paired the headphones, opened up my Google Play test playlist and… Hey, these sound really nice! Most of the time, I have to tinker a bit with an EQ to get a semi-decent sound profile going, but not this time. The Aukey EP-B40 sound great out of the box. It's great for activities, and it won't let you down in everyday use. The sound is clear with just enough beat to keep the blood flowing during exercises.
Let's go for a cycle
Cycling test is a make or break test if it comes to the headphones. If they are not fun to cycle with, they are not going to make the cut. So far LG – Tone has been perfect in this department with a generous IO, superb battery and slim earbud profile which generate no wind noise at high speeds.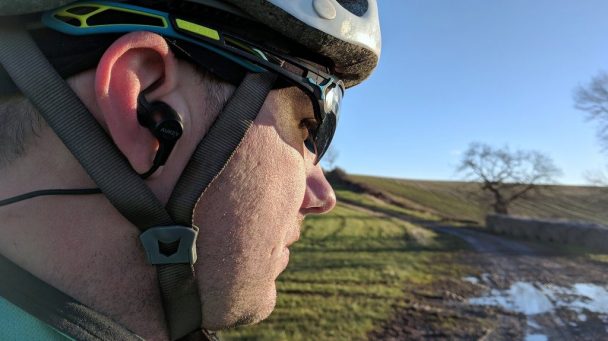 I'm happy to report I found the replacement.  The Aukey EP-B40 may lack in IO, but they last long enough to cover longer rides, stay inside your ears, don't get in the way of the helmet and what most important – have a decent noise isolation. A fairly slim earbud profile also keeps the air resistance noise low! If you are into cycling, you have my recommendation. They are also so much easier to store than LG TONE.
Run for your life
I run, because cycling doesn't make me sweat, not because I like it! A good soundtrack and great fit are very important to me. Running itself can be annoying, so the last thing I want to do is fiddle about with the headphones. I'm happy to report that you can wear Aukey EP-B40 and bounce around like a happy bunny. They stay in place and deliver the music. Worked flawlessly with Google Pixel inside my pocket and music streamed from LG Urbane smartwatch. I just love when the tech just works!
General use
The battery is outstanding, with advertised 8h of playtime I got just under that. And here comes the first and probably the biggest criticism of the headphones. There is no way to trigger the Google Assistant. It's a shame really as everything else was just great!
Phone calls are good.I could hear everything I needed to but the person on the other end said the sound was little subpar compared to the headset.
Conclusion
The headset came close replacing my LG-TONES for sports activities. For me, the lack of a trigger for the Google Assistant is a deal breaker, but if you are ok without it – it's one of the best sports Bluetooth headphones I have reviewed so far.
[tabs tab1="Disclaimer" ] [tab id=1]The Aukey EP-B40 has been provided to me for the purpose of the review. As usual, with all my reviews I reserve the right to an honest critique of the product.[/tab] [/tabs]
I write for pocketables.com for free, if you enjoy my content you can buy me a coffee via PayPal or join one of Patreon Rewards tiers. You can grab the headphones using affiliated links below: