1300mAh from the credit card sized Xoopar Powercard
I've received more claims of a credit card sized phone-charging device than I can shake a stick at over the last few year, so when Xoopar's PR department contacted me I said I'd wait until the product was out to mention it. I received my Powercard this a couple of days ago and here's what I found.
First off, it fits in a credit card slot in my wallet. I can usually get two credit cards in there and the Xoopar Powercard definitely was a squeeze but it fits. It's about 5mm thick, appears to be the exact dimensions of my Tito's Playland card (I'm not putting a credit card on here, trust me, same size).
The USB-A port folds flatter to streamline the size and make it smaller, and you can see it fits in a wallet with very little space for cards.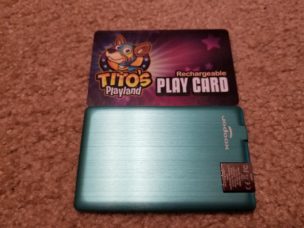 It ships with a USB-A to MicroUSB cable which will be needed to get the 1300mAh out to your phone, and that's where the appeal of a credit card sized charger starts to fall apart. You still have to carry a cable around. Oh, don't get me wrong, that's not a huge impedance as there're USB to Micro USB things everywhere and built into everything these days, but it's something to consider.
Would have been nice if it shipped with a squished cable.
The next is that this is a relatively low capacity item. It's lightweight, but it's a lightweight when you're in a jam. It'll get you charged up enough to get out of a jam but that's about it. It's what I would consider an emergency use device in most cases.
The Xoopar Powercard charges either direction at 1 amp. This means you'll be tethered to the Xoopar Powercard for about an hour . While putting in two amp charging would increase the size, one amp puts this squarely in my emergency backup last choice location.
Finally, I'm not entirely sure how durable this is, but it's bendable if you put some weight on it. I'd be worried about carrying this in anything but a front pocket, wallet, or shirt pocket.
The Xoopar Powercard is neat, I will say that. It's the smallest, lightest, most pocketable power bank I've seen, but in the era of 40,000mAh monster banks the pricing is going to have to be very competitive.
Pricing info here when I get it.
Oh yeah, I can't find anywhere to purchase this yet. Guessing we'll be seeing it on Amazon in the next few weeks.
Great idea, actually credit card sized (although maybe two or three stacked size), not quite sure who it's aimed at.
I'll update this when we get a place one can buy this from.