Fingerprint Action Pro puts gesture control on the fingerprint scanner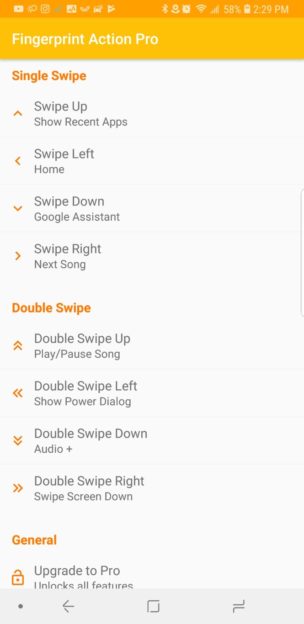 Fingerprint Action Pro is a neat idea that takes your fingerprint scanner and turns it into a slightly more useful piece of hardware by allowing custom actions to be performed.
In the free version your actions are non, back, home, show recent apps, google assistant, expand notification panel, play/pause song, previous son, next song, show power dialog, toggle split screen, show quick settings, swipe screen left, swipe screen right, swipe screen up, swipe screen down, toggle flashlight, brightness+, brighness-, audio+, audio-, Minimum brightness, maximum brightness,toggle auto brightness.
In the paid version you've got toggle notification, launch app, scroll up, and scroll down. The paid version is currently $0.99 so you know, skip lunch for a week and all.
You have options for fingerprint swipes, and double swipes as well.
You don't need the paid version of Finerprint Action pro to play with it, and it's not for all phones with a fingerprint scanner at the moment, so go ahead and see if you find it useful and if so skip that hot tub and give the developer a buck for a neat app.
Or you know, don't.
Download: Google Play