IQIYI introduces a charge-anything USB cable
I've got friends with old and new Androids and friends with iPhones and whenever anyone comes over (usually with a low battery,) it's a search for where I left that lightning cable or what I tied the old MicroUSB cable to that last time. Now IQIYI has released a cable for that.
The IQIYI 3-in-1 cable doesn't do anything we haven't seen before, but it does it for every modern device that might walk into your living room with a six pack and a dead phone.
It's MFi certified, USB 2.0 A type on one side, Type C, Micro USB, or Lightning on the other.
It'll charge, sync, and means you can leave your guest charging cable plugged in and ready to charge.
Paul finds something to complain about
The base connector of this is going to be the piece that gets the most wear and tear if you have a lot of people changing between Type C and Lightning. That base connector is a Micro USB, of which I've broken plenty in my life. I'd really rather the base connector had been USB-C and the Lightning and Micro-USB were pluggable, but whatever.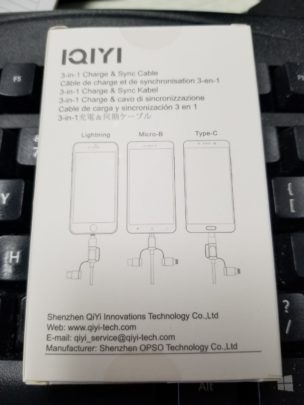 Also while I have had no issues during, several people have, although in each case the company has stepped up to replace the cable. I suspect that the Micro USB backing may be to blame, but not entirely sure. The people who complain that it doesn't work seem to universally leave out which phone they have.
The Fakespot grade on April 6th is currently a B with 130 reviews. The Amazon rating is currently 4.6 stars.
Wrap up
The price as of this writing is $10.19 for a 3.3 foot cable. Considering how expensive these Micro USB to lightning/USB C adapters are maybe it's not so expensive after all. That said the cable feels a little thin so I don't believe I'll be wadding it up and taking it on the road regardless of their 6000 bend-test claims.
It's useful if you have either a lot of friends with different phones that you want to charge, or are the power support in the field and have to be able to connect to anything modern.
As of this writing the IQIYI 3-in-1 Charge/Sync cable is $10.19 on Amazon