Steampunk Tower 2, now on Steam, punk.
It's no great secret that tower defense games are one of my joys, and Steampunk Tower 2 is currently my obsession.
Actually it may be a pretty good secret. I just realized I don't think I've written about one in a long time.
For those who're unfamiliar with tower defense:  Things start approaching a base/tower/castle/whatever and you deploy defenses to tackle incoming baddies.
In Steampunk Tower 2 your tower is a giant badass sword plunged into the heart of enemy territory. Held there with willpower, bullets, and venom as waves of attackers seek to wrest your sword from their land.
Unlike traditional tower defense games it's not just a set it and forget it sort of thing. You buy types of defenses and place them on the sword's hilt at various locations. All weapons on a side can usually fire at the same time, and there is a reloading component as well.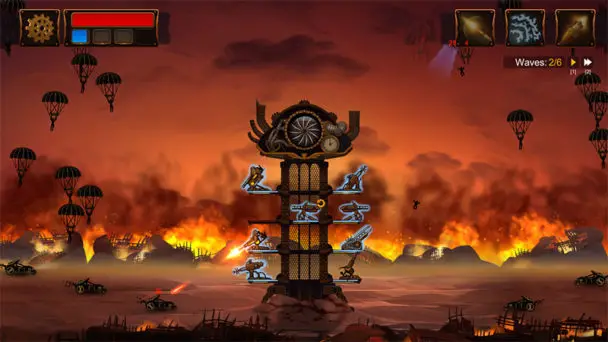 All defenses appear to reload on their own, but they reload significantly quicker if pulled to into the hilt. Only one defense per hilt level can be being fast reloaded, so there's quite often times when you have to decide whether you're going to defend against the steam-powered tank, or the giant coal-burning iron mechanization plodding toward you on the other side.
Along with this there are characters you can slap on trains on missions to bring back monies and whatever they're calling mana in this game. In Steampunk Tower 2 you also have to go back to reclaim lands you've already won as the enemy The Cult takes over previously conquered lands.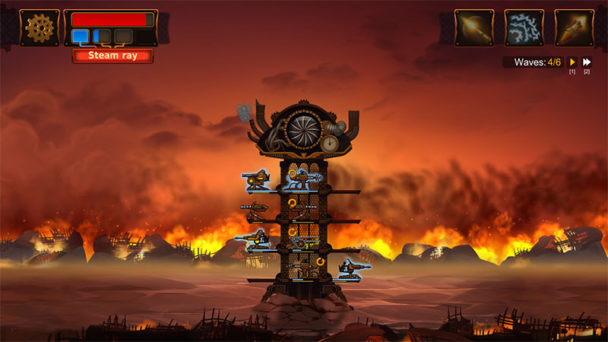 Don't worry, you don't have to re-fight if you don't want to, you can spend some money for auto fighting.
Tower upgrades also exist which allow you to do things such as a steam beam, missiles, EMP, etc.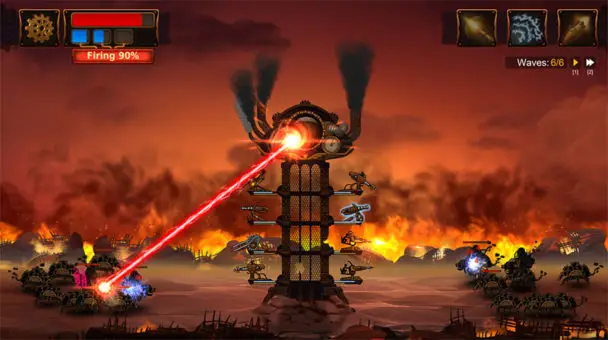 Paul finds problems with Steampunk Tower 2
There are a couple of issues with the game I've found in the four or so hours I've played of this. Four hours is a lot of gameplay when you have two kids, trust me.
The first issue is sometimes the click zones you need will be behind the face and text of a person. This happened when it was teaching me to upgrade things and the green pointed I needed to click was just barely visible next to a person's face, mostly obscured.
I'm not sure if this is because I'm playing in windowed mode or what, but it did get annoying.
The second is not so much a problem if you know what the deal is. If you've sent people out on trains and they're back and you click on them and nothing happens. There's no obvious reason presented as to why this is the case.
The reason I found is that you can't collect resources when you're completely full of resources. The solution is to spend/upgrade something. Future resource collecting train missions are useless until you do.
Steampunk Tower 2 – Overall
Very fun time killer. Regularly priced $7.99 but currently on a 15% off sale on Steam to celebrate its first week.
I like it, bet you will too.
Download: Steam