This is why stamps cost so much
This falls into the category of something Paul finds amusing at 11pm – a waste of USPS money, resources, and potential headaches for employees from an evidently unproofed mass mailer.
There's no righteous indignation below, just "wow, this failed on a lot of levels, let me show you the fail".
TL;DR – USPS sent mailer with invalid mobile link and fake QR code promoting service.
In Nashville, TN and probably elsewhere the USPS sent out a pamphlet in an attempt to make people aware of Informed Delivery. This is a service which allows you to get an email containing a scan of the letters you should be receiving that or the next day. Really, it's neat, sign up for free for it here.
It can do more than that, such as tracking packages, rescheduling things, but I'm not here to pitch for that cool USPS service. It's worth promoting though.
I'd been interested in getting this set up, but had not had much time as the website, kids, work, illness (mostly colds with a dash of allergies,) Easter, etc all got in the way. The letter informing me how to showed and that kicked my butt into action, this was going to happen and happen while the kids were in the bath.
So the first thing I tried was the website they listed. usps.com/mobiledelivery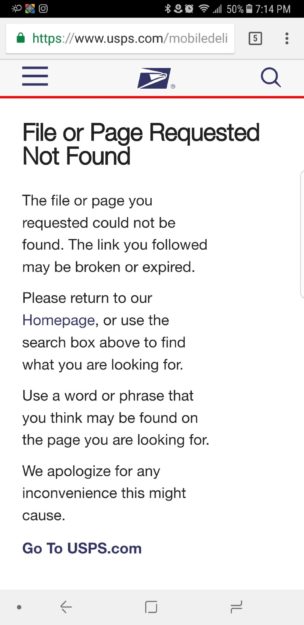 That didn't work, and as of 10:56pm CST 4/2/18 it returns a file or page not found. "OK," thought I, "perhaps this is one of those weird things where the USPS ancient system is treating a mobile app and a computer app differently."
Nope, no dice. Windows PC (Edge/Chrome,) and Chrome Android get the same thing. They hadn't set it up.
Had they jumped the gun and delivered their pamphlet early? Perhaps. This was what I was thinking – giving them the benefit of the doubt until I tried their QR code.
It took a while but I, as well as my QR reader, discovered the QR code was invalid. It never resolves. It's the only QR code I've ever seen anywhere that didn't resolve. It's a mock up/placeholder of a QR code.
So yeah, USPS sent me a fake QR code (it's not valid,) and either jumped the gun on the link they're promoting or are promoting the wrong link.
Seems like a lot of things had to fail to get that. Even if the URL will be valid tomorrow the QR code is a mockup.