BenQ treVolo S Wireless Electrostatic Speaker review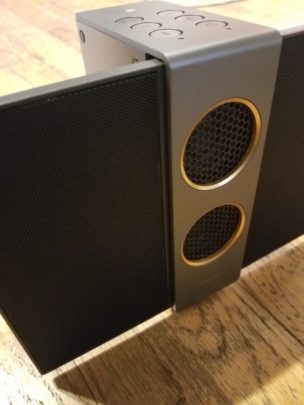 The treVolo S is something we haven't reviewed before. Oh, sure we've reviewed wireless bluetooth portable speakers with insane battery life, but the treVolo S has flip-out electrostatic speakers which produce a noticeably different, more authentic feeling sound on several things.
I hate to use the word "authentic," however that's what it feels like. Voices sound like they're in the room or playing on a very good set of speakers. I had to pull a Rick from Pawn Stars and call in a buddy of mine who works in a sound studio to listen because I don't have the words for what this does.
What you first have to understand is what an electrostatic speaker is, personally this was my first run in with one. You can find a good discussion of the pros and cons of them here.
A very TL;DR on electrostatic: natural presentation, crisp upper end, larger size for less volume.
First experiences with the treVolo S
I started off playing some FLACs I made of some David Bowie and Queen. The results were really good. I was a bit confused on this as the music didn't sound quite the same. I heard things in the music I hadn't noticed before, and then I started wondering if I was only hearing these because I was trying to.
I swapped over to my Google Home and played the same music and noticed what I was hearing was indeed there, but a little less pronounced.
Switched over to some BT + Mike Doughty and was confused. I liked the presentation more on the other speakers I tried. Switched to just Doughty and the treVolo S reigned supreme. It's the bass I thought. Pretty much listened rapt to some of my old Soul Coughing albums.
I decided to just crank the thing and see if I could spot what was confusing me in a wash of noise and realized that while this is a brick of a device, it doesn't get extremely loud, and even when it does it doesn't sound like it distorts. It also doesn't produce a whole lot of bass.
Oh, there's bass, it's just not in your face bass. While loud, it's not bringing the party.
Brian weighs in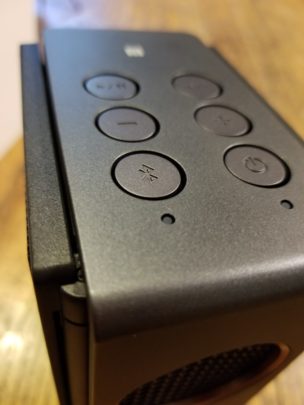 Brian works in the recording industry. He used to be my neighbor, and because it's Nashville I was neighbors on either side with people professionally in the music industry. He came over and gave them a listen and told me tales about the huge electrostatic speakers they use in one of the studios.
His general belief is that once you went this route you probably stuck to it, but that the average user who is streaming from a relatively low quality streaming service (most of them,) were going to get the imperfections of the codec breakdown highlighted for them and probably would be better off with a less expensive speaker, or a more expensive music streaming service.
While it does have audio and DAC USB in, he thought that primary use being wireless with a battery probably was going to be phone audio and podcasts in particular. They really do sound slightly better.
Things to muse over
I've realized over the past few days that I have high-end hearing loss, I can't hear Yanny for crap most places, but I did (barely) on these. So there's that.
The speakers are amazing for vocals, acoustic guitars, most drums. I didn't find the bass particularly thumpy, nor as loud as cheaper speakers. They're also significantly less distorted.
The features
There's a way to pair two treVolo Ss, I received one for review, I did not test this.
The electrostatic speaker fold in and out and do not have to be flapped out to work or sound nice.
There's NFC pairing mode. You can use a Micro USB cable to send audio directly to the device upgrading your computer speakers.
There's an app that triggers 3D mode. I was asked to watch some TV and try 3D mode out as part of the review. Didn't have much of an effect. I did try a movie out and it's noticeable but I failed to be wowed. Could just be what I was watching and how it's encoded however.
The treVolo S app
From the pictures I was betting I'd be able to do something with it such as equalizer settings. What I got was a button to turn on the 3D audio and a menu to pair a second speaker. I don't know why there's no button on the device to switch to 3D mode but that's annoying.
Wrap-up
Coming in a 3.3 pounds it's becoming less portable. Lack of volume and bass means it's not a party speaker. Extremely crisp speaking will make it sound like people are talking right next to you.
It's a bit consumer, but quite a bit pure audiophile, and it's going to come down in the end to what your use case and tastes are.
The BenQ treVolo S Wireless Electrostatic Speaker is currently available for $199