CHOETECH USB C to MicroUSB adapter review
If you've been steadily replacing your failing MicroUSB cables with well-built USB-C cables capable of surviving a bear attack (note: no bear attack tested,) you might have come to the point where you're scrambling to find a way to charge or sync an old Micro USB device. This is where having an adapter handy could mean the difference between life, and… well you know what I can't go that far out to make a case, they're handy.
The CHOETECH USB C to MicroUSB adapter can clip to a keychain, attach to a bag, or you can just use a twist tie to attach them to a charger cable for use whenever you need it.
While personally I probably have more MicroUSB cables than I'll ever go through, I've been steadily replacing them with newer cables and besides looking better, I feel a little less like crimping them is going to somehow set something on fire. USB C gives me potentially unwarranted trust that the cable isn't going to spontaneously erupt. Perhaps I'm off.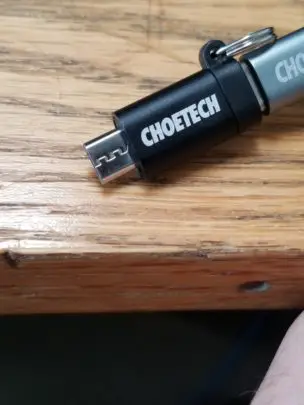 One thing to note about these is they're a data and sync and charging adapter, they don't claim to do USB OTG functionality for you. For that you'll have to look for something different that I'm pretty sure we haven't reviewed before. I think we've reviewed a type C male to MicroUSB female that did that before, but not in this particular direction.
I think a year or two ago I reviewed some of these and thought their time was not quite yet. In 2018 I think we're now to the point where these are becoming quite useful.
That said, at $7.99 for two, unless you're a heavy traveler, you might just want to pack a tiny Micro USB cable with you.
The CHOETECH USB C to MicroUSB adapter (2 pack) is available from Amazon for $7.99 as of this writing. Or you can grab them at CHOETECH's website.