Fortnite available now on the Nintendo Switch (free)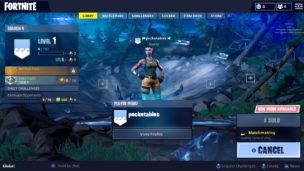 Fortnite has made it to the Nintendo Switch and for anyone wanting to play a quick battle royale game it's free, fun, and not in the least bit panic-inducing.
OK, that last part I'm not sure. I've managed to thus far not be defeated by anything other than the storm and am still trying to get the hang of building things, but it's pretty much like what I've watched on YouTube's gaming channels.
There seems to be some issue with the Epic back end servers recognizing my account, but meh, I'm playing with a temp handle, I'm also terrible at the moment so whatever. Have sent multiple requests for a password reset, or one time login code, no emails show. Guessing probably due to the massive influx of new players past couple of days.
It was released something like three days ago, and two days ago reached two million downloads as of that time. There's no shortage of people waiting to play in the lobby, so you can be up and running in no time.
If you've been playing over on the Playstation 4, chances are you're going to have problems getting access to your Fortnite account on the Switch. This appears to be because of a bug up Sony's behind, and not a Nintendo issue. But the statements are vague.
It's free, fun, all those things. It's Fortnite, a game that will give you a reason to buy a Switch power bank.
If you're wondering how Fortnite makes money as a free game, you can mosey on over here and read about in-app-purchases that you probably not need.
Graphics, honestly I'm having a difficult time telling too much difference between a 1080P stream and the 720P play I'm getting. Background textures may look a little less, but I have not played while watching someone play on YouTube/Twitch, so meh, it's fun, it's good, responds well.
I'm entirely unsure how one formulates a Nintendo Switch store link, so if the following does not work let me know:
Download: Nintendo Game Store