KeySmart Pro eight-month final review
You may recall about eight months ago I started a quick review of the KeySmart Pro compact key holder/locator. If you don't, it's a switchblade for your keys with a Bluetooth LE beacon that can trigger your phone, or be triggered and provide a little buzzer. It's also got a mini flashlight and a bottle opener on it.
The idea is never lose your keys again. I lived with it every day since I got it in October 2017 and here's what I found:
Software fails
I'm a fan of Tile's, however something they really need to stress to customers is that sometimes when you upgrade your phone or just go for a while their software isn't going to start. This means there's nothing there to tell you where you last left your keys.
This was the case the first time I put my keys down, and subsequently a kid took them and moved them.
"Oh ho, my keys are missing, where did they last be seen arrrr?.. wait seriously? This says they were last seen two and a half weeks ago two towns over? WTF I had them today".
Yeah, OS upgrade knocked Tile out. I searched around and found my keys were evidently being used as witches brooms for Barbies.
That's more of a Tile App thing that last happened several months ago than a KeySmart Pro thing, but figured I'd mention it.
What The Fails!?!
I break out the keys to show how they're findable. Open the Tile app, trigger the beacon, nothing. This actually happened a few times, the first was because the rechargeable battery had died quite suddenly, I'm believing the LED light had turned on and bled out in significantly under the three month maximum battery life.
There's nothing to tell you the battery is dead. No indication of "hey, haven't seen Keys in a while, you got them?"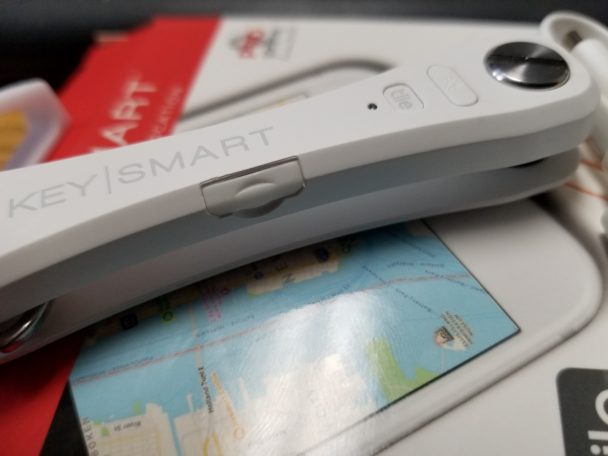 Other times it was hit or miss whether it worked. It definitely was not the miracle key finding experience I was hoping to have. Not sure how to balance this between Tile's software and KeySmart's product.
Find your missing phone was also hit or miss. If the screen was on, chances were good I could locate that phone. Also, probably a Tile issue here.
Getting those keys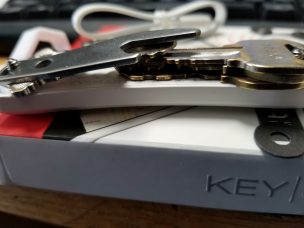 The idea of switchblade keys seems really really neat until you have about 10 keys and need to get the second one over, have just trimmed your fingernails, and now you have to figure some way to push it out, in the rain, with one hand because you're attempting to carry stuff into work.
No seriously, I had this happen on a regular basis with my office key.
It was a hassle.
KeySmart Pro Overall?
I was actually happy when I discovered my old key ring last week. I pulled my keys off of it and have not looked back. I think I may try the Tile fobs again for key tracking as their life is the years range these days, but other than the KeySmart looking cool, which it does, I have no particularly wow memories of the thing.
I do not hate the thing, but I do not want to have to start scheduling key recharging because there's nothing to tell me when I need to, and the Tile app, at least as of my last checking, really needed something to tell you when things were not working.