LOPOO Outdoor Smart Plug review (coupon)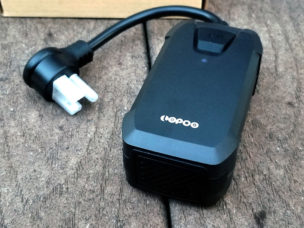 The LOPOO Outdoor Smart Plug is an IP44 smart plug (protected against splashing water) that works outside in the elements and lets you turn a plug on an off via most personal assistants, an app, and by schedule.
It functions with the Smart Life app and appeared to not require that I connect to the 2.4GHz band in order to pass it the WiFi AP name. That said, I did not think to look during setup which channel I was on.
I can tell you that it functions through a brick outer wall, and at least two 1940's plaster walls with my ISP's WiFi AP (my Portal WiFi is now at work sadly,) so it's fairly strong. Not that there's a whole lot of data that has to go between the devices.
Through the Smart Life app you can set routines, such as I've got the deck lights set to pop on for a couple of hours on the weekends. You can also set it to work with Google Assistant without much issue if you're familiar with how device management works.
I think this may be a stretch for most as for why they would want a WiFi outdoor smart plug. I can think of Christmas lights, my deck lights, but not a whole lot else that this would be particularly useful for. That said, perhaps my imagination is limited.
There currently exists a 40% off code that is working as of this writing:
40% OFF code: CGU5DZ3Z
Discounted Price: $ 19.79
How long this code will last, I do not know. I also do not know whether putting an IoT device with your WiFi credentials stored out where people can grab it and take it home would particularly be a good idea.
Not that I think your average hacker is going to require such info, and there are simpler ways to do things, but it does seem like we're going to hear about that at some point.
My plug has been in operation about three weeks now, nothing to report, no dropouts, it's just worked. Think it rained for a second or two during this time.
The LOPOO Outdoor Smart plug is available from Amazon for $32.99 regularly, or $19.79 with that coupon code.