myCharge enters the wireless world with UnPlugged series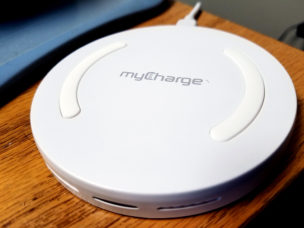 myCharge is a company we've been following for the past six years, and for the most part they've been about portable charging, batteries, on the road sort of stuff. They've been really good at it too.
Now myCharge is entering the wireless charging world, both portable and plugged into the wall with both their PowerDisk and UnPlugged portable wireless charger batteries.
The PowerDisk series is your standard round charger plugged into a wall outlet. There's the PowerDisk – a standard 5-Watt 1amp charger (pictured here,) and the PowerDisk+ which is 10 watts and comes with a Qualcomm Quick Charge 3.0 charging adapter to power it.
The UnPlugged seres are your more myCharge-standard portable power banks with a Qi charging pad built in. I'll be doing a review on the UnPlugged 10K, a 10,000mAh wireless charger with two-amp wireless output and meets Apple and Samsung Fast Charge standards. I'm unsure if it's Quick Charge capable, man we've got a lot of standards to cover here.
Testing the PowerDisk out (we didn't get the plus version for some reason, it'll be here next week,) it comes with a wall adapter, seems to be providing about +870mA according to Battery Monitor Widget, and functions like every wireless disk charger we've covered functions. That is it functions well, but slightly less impressive in a world where 2amp wireless charging is available.
Coming in at $29.99 the PowerDisk is more expensive than most charging disks we've covered, however it also ships with a wall plug adapter that's capable of delivering the power.
Still seems a little high for that level. The PowerDisk+ comes in at $49.99 and provides 10W charging off of a Quick Charge 3.0 18W wall adapter.
Both of these seem to be more premium pricing, you can piece together something similar for $10-15 less, however you get the myCharge name behind them, which generally has meant a quality product in my experience. I'm not just saying that because they give me free stuff.
I'll be reviewing the myCharge UnPlugged 10K in a few days when I see how it compares to the other 10K wireless charger I reviewed recently.
Initial thoughts on the UnPlugged 10K – needs a grip to hold phone in place. Placing WiFi activation button where you lay a phone seems kind of odd. Wish it had built in cables. Claims you simply drop your smartphone on the powerbank and charging will start upon contact. I'm not seeing that. Button seems to have to be pressed once for it to work on mine.
On a related note, the version I saw at CES you could wirelessly charge the wireless charger. That is the portable wireless charger could stack on a wireless charger to charge the batteries. Additionally you could sit a phone on top of that. I'm wondering what happened to that tech or if the PowerDisk is not capable.