A day with the Ryobi 20″ self propelled battery powered lawn mower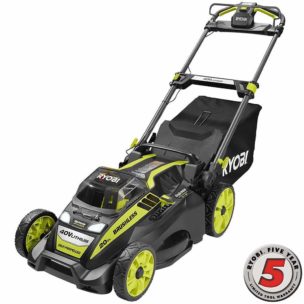 Obviously not pocketable, but I figured tangential interest in battery powered gadgets might be there. Due to my lawnmower being dead, in a repair shop, and this not being the first time (happens about every other year for something,) I decided perhaps battery technology had come far enough to attempt a cordless battery powered lawnmower. I chose a Ryobi 20″ self propelled lawnmower. This is day one with it.
The advantages to these are they're wicked light, no cans of flammable liquids, no oils, no starter cleaners, no sprays, you don't manage to mess up a rotator cuff attempting to get the thing started when something goes wrong, deal with the guy who's booked five weeks out to repair, yadda yadda. I'm a lawn wimp I'll admit. I'm also increasingly paranoid my kids are going to get into toxic stuff, even though it's locked away.
I've had some experience with Ryobi before and became a heavy adopter of the brand because I got to see various construction and handymen using other brands and complaining nonstop about their non-Ryobi tools, and other than one battery dying at six or seven years I've had a good run. I took the plunge.
The total weight is about 55 pounds. This includes the charger, bag, battery, box etc. I was pretty surprised when I got it out I had no issues carrying it and it folds and is light enough to hang up if I want. I set up the charger and popped the battery in for a fill up. Everything other than either the mulching plug or the bag was installed. I wanted this in mulching mode so I slapped the plug in went for a very short test because it started raining almost immediately.
About six minutes in and no complaints other than the rain, I put it back up and went to put the battery back on the charger. I could not get it out. I looked through the documentation and pretty much nothing. There's a button, you press it, you pull out. This didn't happen. I finally managed to press and wiggle and the thing popped out with no strain. The battery release mechanism seems to require me to sort of press in and push down at the far end – like half the release button does more than the other half. Got it now, but first try, take a look at the battery release so you know, it's not going to be evident.
Also a shame they didn't manage to stick with the Ryobi One style…
I had a recently mowed yard, which I'd had to pay to get mowed because my mower is once again in the shop and I was also out of town. I set the height to the lowest because I hate grass, and went to town on day 2.
According to Zillow my lot minus house size is about 5900 square feet of "land" – take away some space for deck, plants, yadda yadda we're looking at 5400 square feet of pretty uneven yard I attacked using the mulcher, self propelled, and grass that had been cut five days ago.
Fired it up, started a grassacre on the front yard and had to lower the self propelled speed because it's freaking fast. The only issue I had on the front is that sometimes the self propelled will kick out. I need to read up on this but I found multiple times that I needed to restart the propelling, and it's not an instant start like it is with a gas mower. It's pull, wait about half a second, bam wheels are going.
Not terrible, but not Tesla-esque.
Front lawn no issues. Plowed through it in record time and was seriously impressed with how quiet the thing was. I went around to the back and divided the back lawn into two sections and started on the rightmost. Two or three loops around the right and the battery died.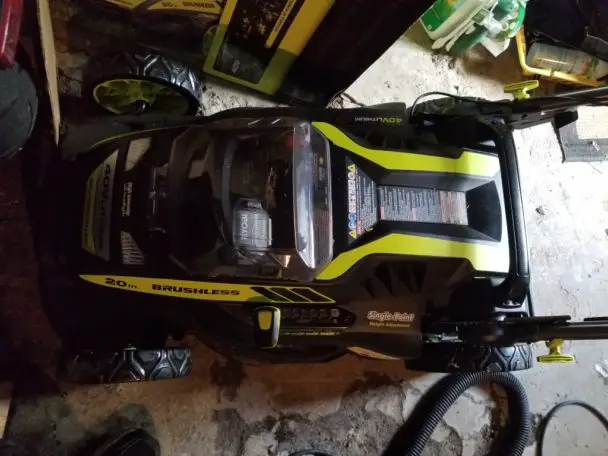 Time to battery death on mulcher mode and uneven terrain using self propelled all the time: about 28 minutes.
As this thing ships only with one battery, although it does have space to carry two, I went in to pop the battery on the charger. It was pretty warm to the touch but not absurdly hot, but evidently warm enough that the charger will not touch it until it completely cools (which is somewhere in the neighborhood of over 30 minutes).
If I had two batteries, I'd be done. As it stands, one fully charged battery seemed to handle 61% of my yard (~3300sq feet) in mulching mode, which I assume is more strenuous than bagging mode. I also attempted to use self propel the entire time just because I wanted to see what would happen.
I'm totally going with unfounded gut feeling from a guy who plays with phone batteries here, but I believe that without using mulcher and self propel I'd probably have extended the life about 30% which still would not quite have covered my very uneven yard.
I'm going to finish up this mow tonight and probably report back on a second test in approximately five days.
You can grab a Ryobi 20″ self propelled battery powered lawn mower at Amazon (making us an affiliate commission, awwww  yaz,) or get a slightly less expensive non-self propelled version here. Realistically if you're getting the latter go to Home Depot or check Lowes as the price is about $100 less in-store.