Kinzd RFID blocking wallets review
Kinzd is a manufacturer of various money and document holding devices. They recently sent us a sample of their Men's RFID blocking trifold wallet and their RFID blocking Carbon fiber wallet that supposedly help prevent near-field skimmers from grabbing your credit card info as you pass.
My stated request was I was looking for a wallet that isn't stuck in the 1980's and realizes that it's been a card apocalypse for the past 30 years with everyone and their dog wanting you to carry a plastic card around for their service (gym, grocery store, gas rewards, credit cards, etc) – as it stands I have credit cards for work, other work, and personal, debit cards for two banks so I can make deposits, three health related cards, kid's zoo membership, science center membership, art center membership, driver's license, other licenses I carry for work, the list goes on.
I haven't been able (or particularly wanted) to carry cash for a long time. I put away my charger wallet for a while and tried out their trifold.
Both of the products they sent were able to handle ten cards without blinking. Slapping in secondary IDs, card bottle opener, insurance cards, etc take both to the end times, but still allow for a process I used to know as the folding of bills. And that it does pretty well.
It's not really possible to stay slim when you've got 16 pieces of plastic you've got to carry, but there's still room for a few bills in there, not that I have any in this picture, but yeah.
As I don't have a field skimmer I was used some NFC Whiztags (NFC is a subset RFID if I'm reading correctly,) and an RFID scanner app to test. The result is anywhere a card would go, NFC doesn't work. The only sort of exception to that is when the wallets are open you can scan through the ID window. In both wallets the ID window is usually not accessible.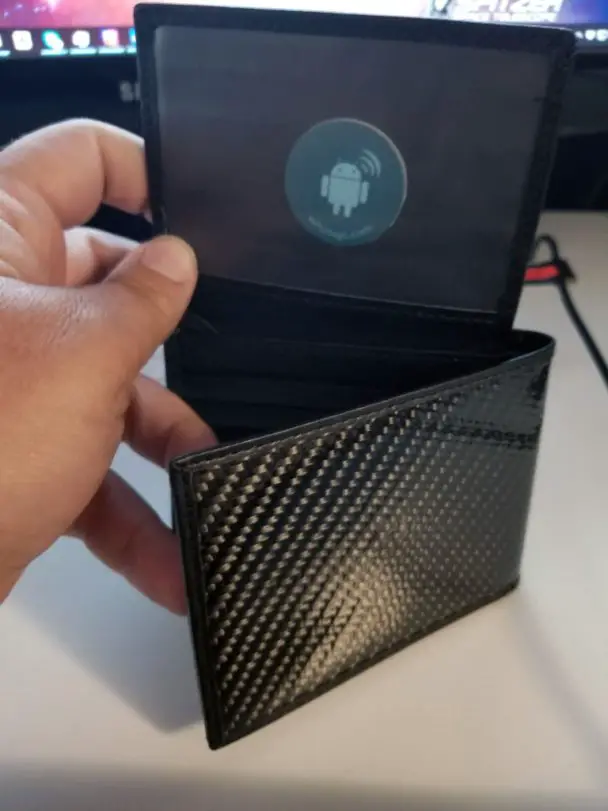 So, using the equipment I had at hand the wallets performed to block NFC, I do not doubt they block RFID from the sides as that's fairly well done tech these days, and I don't have a great way to check from the top.
The wallets are workable, the one I'm using daily has held up without anything other than what you see for a month of use (which included a hike up Misery Ridge at Smith Rock, and a hike down to Crater Lake.)
For the price, I do not have any complaints, it's a wallet, it blocks RFID and NFC as near as I can tell, it's designed for someone who needs a whole crapton of plastic just to get work and life done.
One thing to note from the manufacturer is while they block 13.56Mhz (credit cards, driver's licenses, ID cards,) they do not block 125KHz which are generally ID badges, access cards, hotel room keys.
The Kindz Carbon Fiber NFC blocking wallet is available from Amazon for about $16, and the trifold RFID blocking wallet I'm currently using can be found on their website for about $19, although it will probably be on Amazon soon.