Sound Oasis GTS-2000 Deluxe Sleep Mask review
Chances are if you're reading this you're overcaffeinated, have a mind that races like a greyhound through all your problems and embarrassing moments as you're trying to go to sleep, and probably have serious sleep issues.
I managed to slog through 43 years with chronic insomnia to the point I really disliked life in general and while I've found serious relief with the CPAP there still lingers everything I have to do the next day running through my mind as I try to go to sleep.
Combine with light pollution and even though my sleep is way better, it's not particularly great. So I tried this product. I also tried this product due to getting it confused with a bluetooth sleep therapy headset, in case you're wondering why I'm covering something not connected.
The premise behind the Glo To Sleep mask 1) it's a sleep mask that blocks out all light comfortably, 2) they have some LED lights in the mask you can focus on while going to sleep that knock you out.
According to their How it Works page for thousands of years people have told us to close our eyes, look up, and achieve a calm state of mind to go to sleep. This is under the title a revolutionary new idea. Wondering how it's new if for thousands of years… nevermind…. Having never heard this personally it sounded a little like BS.
Night one I got the mask, sat there and realized the mask combined with the CPAP probably made me look more like Tom Cruise in Top Gun than I ever would normally.
Night one was not a fast getting to sleep but when I woke up it was 10am. Having two kids I immediately wondered who had died to let me and the misses sleep past 7am but everything was ok, I had a little trouble going from blackout dark to 10am sun but that did show me that the things really are good at keeping the light out.
Night two I tried really to calm my thoughts using the lights, really I did, things didn't quite work out. Thoughts raced through my head until the LED lights kicked off, after a little while I realized I was pretty darn sleepy and was out. When I woke I was pretty surprised at how well I'd slept. That however probably was entirely due to cutting all ambient light out of the room.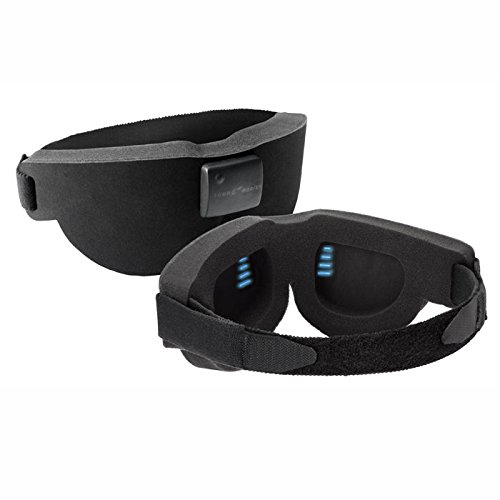 Run three was a one hour nap. It worked. I can't take short naps generally but yeah, it worked. I was down and back up in about an hour and feeling rested. That does not happen.
Night three on waking I realized that my eyes are basically 20 degrees warmer than they normally are. It's a little bit odd when one part of your body is kind of sweaty moist when all the rest of you isn't. Not particularly a bad things but something I noted.
Night four I'd gotten pretty used to it. I tried sleeping without the mask because it adds just a little bit of nudge that my neck doesn't like for the side sleeper. It's amazing how much light you notice is in your room when you've been sleeping in absolute darkness for a while.
Night five, I'm still not seeing the value of the lights. They're neat, supposedly don't trigger a melatonin-inhibiting response, they are somewhat relaxing but I begin to think that they're designed for people with a lot fewer symphonies attempting to compose and be reviewed in their head. I won't say that the LEDs don't do something, but for me I think the value is in the only mask I've ever had to completely block out light.
End result – I'm sleeping with the mask still, not sure the lights help, the how it works science behind the mask reads a little like junk " Glo to Sleep therapy mask works to slow the frequency of the brain's electrical activity, an objective shared with meditation and self-hypnosis." I'd rather they'd just said it attempts to calm the mind by placing 4 lights in front of your eyes.
Great sleep mask, really did enjoy my run with it, probably going to keep on using it.
That said, it's a foam sleep mask with 4 LED lights in each side. I think I might start out of the gate just attempting to get a sleep mask that doesn't glow if you're trying to get beyond insomnia. But, I'm still using it and have been feeling pretty decent.
The GTS-2000 Deluxe Glo To Sleep therapy mask is available from Amazon for $39.99