BLU VIVO XI+ Review – An Auspicious New Start
BLU Products today released their first smartphone, the VIVO XI+, since announcing a new direction for the company last week. The VIVO XI+ is the embodiment of a commitment to higher quality products with guaranteed software updates. Does it live up to this commitment? Read on to find out.
DESIGN
The VIVO XI+ is definitely a departure from previous BLU phones. It's a full-on embrace of 2018 technologies and this shows clearly in the look of the product. The 6.2 inch FHD+ (2246×1080) display is notched and has a small chin. The Gorilla Glass 3 panel tapers off slightly so there's a nice smooth feel to it. The phone is rimmed with a metal band and has nice, clicky, power and volume buttons on the right side. The bottom edge houses a USB-C port (a first for BLU).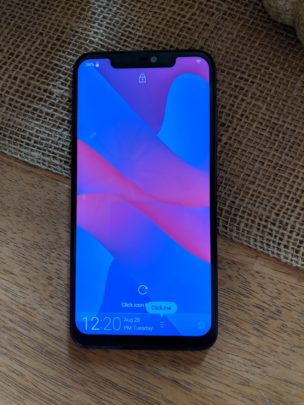 The back of the phone is a slick plastic that supports Qi charging. There's a perfectly placed rear fingerprint reader and a dual rear camera. The phone is available in black and silver. It's a nice looking phone though it is very much an iPhone X lookalike.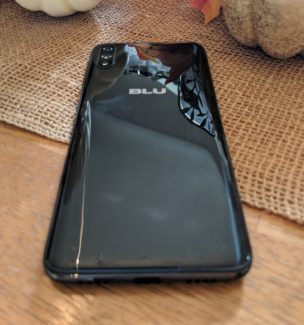 DISPLAY
The VIVO XI+ screen is an 6.2 inch LCD panel with 22460×1080 resolution. That's a respectable 402 PPI. LCD has never been my favorite display technology but, as things go, this one isn't bad. It does give you the option to change the color temperature (cool, warm, neutral).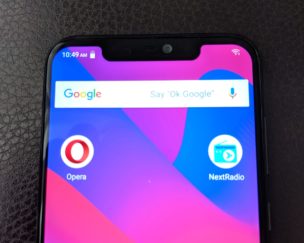 The notch is, unfortunately in my opinion, standard stuff these days. It houses the front facing camera – no stereo speaker here. BLU does give you the option to "disable" the notch. If enabled, a simple swipe from the top left corner places black bars to the left and right of the notch in an attempt to hide it. Then the standard full-width notification bar is displayed below the notch. The effect is pretty good, especially during the day. Since the screen is an LCD the black bars that flank the notch don't actually get turned off. At night or in a darkened room they still give off a glow. This is a problem that an AMOLED screen wouldn't have as it would actually disable the black pixels.
SOFTWARE
Software has been an area where BLU devices have struggled in the past. They've shipped with old versions of Android with no upgrade path in sight. Thankfully, that's not the case with the VIVO XI+. It's running Android 8.1 with the July 2018 security patches. And BLU has promised, "guaranteed" , that there will be an Android 9 update by the end of Q1 2019.
There are several customizations that BLU has made to the OS. My favorite is the full-screen navigation mode. When enabled, the navigation bar is hidden and gestures replace the buttons. It works simply, takes only a bit of use to get used to, and is an excellent alternative to Google's navigation method. What it does is replace the buttons with up-swipes. Swipe up where the back button should be to go back. Swipe up where the home button normally is to go home. And the same for the app switcher.  It's a great system that works really well.
Other BLU-specific enhancements include the notch hide feature discussed earlier, a customized launcher (I recommend replacing this) power on and off scheduling, and face unlocking. The face unlock feature is supported by IR 3D scanning that BLU says cannot be unlocked by photos, masks, or even wax sculptures. In my practice it works well, even in the dark.
CAMERA
The VIVO XI+ has the first camera on a BLU phone that I've really been impressed by. The 16/5 MP main camera takes really good pictures. It's fast, too, moving from shot to shot quickly. It has all of the options you'd expect – timelapse, slow-mo, panorama, and more. Thanks to the dual camera setup it has the convenient 2X zoom popularized by the iPhone. One place the VIVO XI+ falls short is video recording. It tops out at 1080p and is a little jumpy.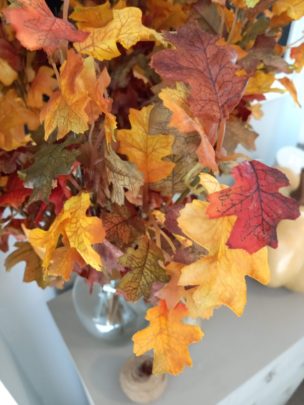 PERFORMANCE
The VIVO XI+ pretty much lives up to BLU's goal of putting out higher quality devices. The SOC is MediaTek's Helio P60 octacore 2.0 GHz system. It's got 6 GB RAM and 128 GB storage and supports another 128 GB of microSD expansion. The battery is rated at 3050 mAh and lasts a full day. It also supports Qi as well as MT's version of fast-charging. That's a pretty potent combination and miles better than any previous BLU effort.
In day-to-day operations the phone is quick. Touch response is excellent. The phone really feels like a top-class device when in use. Everyday apps work fine, of course, but so do the games that I tested with. Mario Run launches quickly (a problem with some devices I've used). Hitman Sniper runs at full quality. Everything I threw at the phone worked just as you'd expect it to on a 2018 flagship.
Benchmarks support my observations. Geekbench 4 CPU and GPU numbers come in at around Galaxy S8 numbers. You'd be hard-pressed to find someone that says the S8 isn't still a capable device.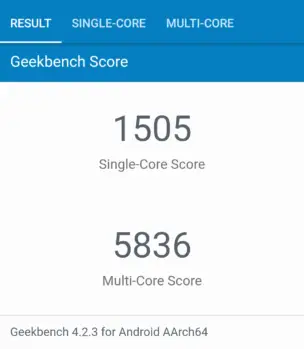 CONCLUSION
I'd say BLU is off to a cracking good start with their reinvention. The VIVO XI+ is by far the best BLU device I've used. BLU has always represented an excellent value but with the VIVO XI+ they've brought no-compromise performance to the table. The device looks good if you can get past the iPhone-ness of it. It feels great. And it performs like a champ. My only real complaint is the screen. If BLU could source AMOLED screens they'd really have something. As is, for $350 from Amazon, it is a great buy for anyone not on Verizon or Sprint.
SPECS
| | |
| --- | --- |
| CPU | MediaTek Helio P60, 2.0GHz Octa-Core |
| Battery | 3050 mAh |
| RAM | 6 GB |
| Internal Storage | 128 GB |
| Connectivity | Wi-Fi a/b/g/n, Bluetooth 4.1, USB-Type C |
| Main Camera | Dual 16 megapixel + 5 megapixel |
| Front Camera | 16 megapixel |
| Fingerprint Reader | Yes, Rear |
| Face Unlock | Yes, IR |
| Display | 6.2 inch, 2246x1080, 401 DPI |
| microSD | Yes, up to 128 GB |
| LTE Bands | 1/2/3/4/5/7/8/12/17/28/66 |
| OS | Android 8.1 |