FCC sides decided Google is big business, sides with it on One Touch Make Ready
I've mentioned a few times in the past that the existing carriers have been leaving wires hanging low, pieces of equipment blocking where Google would be on the pole, and that One Touch Make Ready was defeated.
Oh, as I've gone off on a tangent below One Touch Make Ready has FCC approval now. Yay!
Basically One Touch Make Ready meant for new companies to the ISP market (just going to say Google from here on out,) that they could move other company's equipment if it was incorrectly installed and hanging where Google bought space.
Laws in place meant that each request to properly hang the equipment had to be routed to the company (usually your local cable oligopoly or baby Bell spinoff,) and ask them to kindly hang their equipment like they were legally supposed to the first time.
Whether Google's exaggerating or not on how long this takes, the pretty simple solution was that the existing companies on the poles should have done it right the first time or occasionally check to make sure their cables are in the right place, and at worst case fix them when they have a bucket truck out there.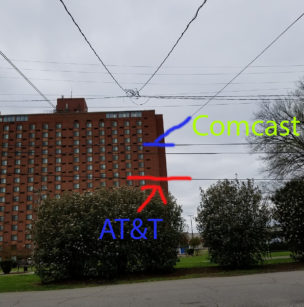 Currently across from my house there's an AT&T line that's maybe 13 feet off the ground.  There have been multiple AT&T bucket trucks out there for other reasons, when my AT&T fiber was installed they had to bring a bucket truck out and attach my line to the Comcast line above the AT&T one because theirs was so low.
Did they tighten up the AT&T line like they were supposed to? Nope. AT&T attached equipment to the Comcast line.
Every two or three blocks now there's a low wire, or newly placed dangling equipment. This didn't used to be the case. I mean there was one or two but dang.
Sometimes I thought about giving companies the benefit of the doubt about equipment blocking, but as Google moved near my work with operations, things started happening over here as well culminating in spools of cable hanging for months.
Now, the downside presented of this is this equipment being moved is that a third party might take out services. A Google tech working to move two dangling spools of cable might break something. The result would be the phone or the cable company crying foul. I'm sure this is going to be the case.
The thing not presented is in most cases when the argument is made against One Touch Make Ready is that maybe if the wires and equipment need to be moved, it's because the existing people on the pole installed them incorrectly.
But whatever, One Touch Make Ready is here unless overturned nationally. Let's get on with the future.