Follow ups on Motiv Ring, Bitdefender Box 2, Vodool video doorbell
It's an interesting day and I'm updating firmware on a series of cameras because, well, life is terrible – thought I'd catch a chance to update on the ever-moving reviews of products that have been busy updating their software.
Motiv Ring
We last left off Motiv with the Android software miscalculating my steps and calories burned. The steps were off about 3x and the calories were, based on those steps, for a 700 pound man dragging a cow. Those issues have been resolved, calories are in normal range now, steps seem to be counting.
New issues added include a nearly minute long startup for the Motiv App, not syncing when it's time, syncing when it wants. Betting this will be hammered out shortly.
It's getting better.
Bitdefender Box 2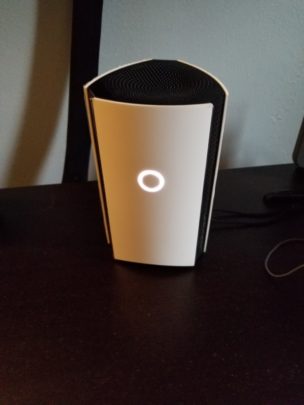 All your IoT things are going to be hackable at some point, and Bitdefender is there to stand in the way and help. It's still there and the issues with speed have not improved. Wired works great, wireless is ok for your lower speed items but you know me.
Here's where some problems crept in – as I moved more and more things onto the Bitdefender I became acutely aware that every firmware or definition update appears to down the thing. This means when my Chromecast is sitting behind it and I'm watching and Bitdefender updates, goodbye Chromecast.
I've also managed to red ring the thing about four times. As far as I can tell that means it's going into recovery mode and it comes out a couple of minutes later. This I noticed multiple times when copying several hundred gigabytes of stuff via FTP to a computer.
When I lose connection I hear about it from webcams and connected apps. It's like a little symphony of fails going off.
Bitdefender needs to allow scheduled updates and work on that stability. Also get the WiFi performance up some, or tell me my Box 2 is befarged.
Vodool WiFi video doorbell
Updates to the software have made it somewhat more usable. It's no longer a prerecorded walkie talkie as they added full duplex mode, but using this every day since I reviewed it it's becoming clearer the software needs major work.
The service went down at one point meaning I couldn't even use the thing. Right after it went down we got the full duplex update, but they have done next to nothing to fix the myriad of bugs I talked about in the initial review.
It's getting better, but too slowly for my liking. Half of the issues are things that needed to be fixed before the thing got to shipping.
So meh.
Also I had a conversation with this cut off by the Bitdefender, that was amusing to me at least.