Lenovo Smart Display Review
Way back in January 2018 Lenovo and Google announced the Lenovo Smart Display. It's the first of its kind Google Assistant device with a screen running the Android Things OS and it is finally available for purchase. Was it worth the wait? Read on to find out.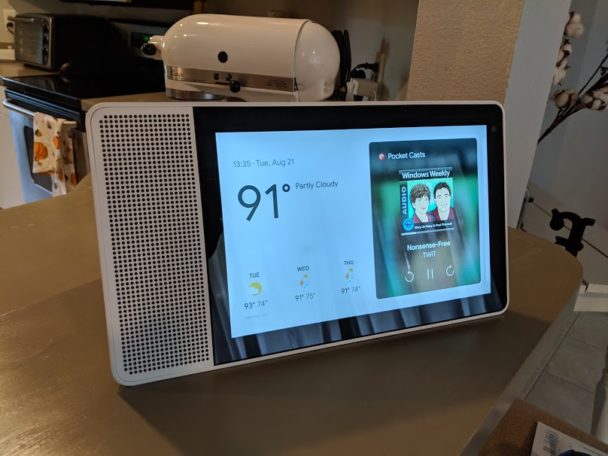 DESIGN
The Lenovo Smart Display is available in two sizes; 10 or 8 inches. There are only a few differences between them. The 10 inch model has a 1920×1200 screen and a bamboo covered back whereas the 8 inch model's display is only 1280×800 and has a plastic back. Other than that, they are very similar.
The screen has a thick black bezel surrounding it and there is a speaker grill off to the left of the display. It kind of reminds me of an old-timey console TV. I've got to say that I'm a little disappointed in the bezel size. Since this isn't a tablet that you pick up and hold I can't see any reason for such large bezels.
The back of the unit is curved and much thicker behind the speaker. This design allows the Lenovo Smart Display to be setup in landscape or portrait orientation. There are tiny rubbery feet on the bottom of the unit to keep it stationary no matter which way you choose to use it. There's a front facing camera for video calls with a convenient sliding cover for the privacy minded.
Overall it's a nice looking device that should fit in well in almost any home.
SOFTWARE AND PERFORMANCE
The Lenovo Smart Display is the first device to ship with Android Things for displays. There are some limitations that you might expect from an early product but in general the system is responsive and works the way you want it to.
On the positive side setup is a breeze. It works just like any Google Home device you've used before. After you run through the initial setup you can link a Google Photos album to use as a background slideshow. That's actually one of my favorite features. It's album integration makes it the best digital photo frame I've used.
The unit sounds pretty good, too. It's not nearly as bass-y as the JBL Link 300 I reviewed  last year but it is acceptable for general use. It sounds on par with the standard Google Home. It's good, not great.
Voice interaction is just like any other Google Home device with the added bonus of getting visual feedback. Ask for the weather forecast and the Google Assistant will tell it to you and also show you a nice on-screen summary (with sound effects!). Search for a recipe and you can see it on the screen.
In addition to voice control, the Lenovo Smart Display supports touch interaction. Swipe left and right to move through photos or back through query results. The screen is responsive and animations are pretty fluid. It also supports casting from audio and video software. It works great with apps like Google Play Music, Pocket Casts, even Discovery Go. Strangely, it doesn't support Netflix or whole device casting.
On the more negative side there are a few problems. First, Android Things isn't ready for portrait mode. Right now only Duo supports this mode. Another problem is that the Lenovo Smart Display cannot be added to a speaker group. I know that's a limitation of smart TVs and Chromecast devices too, but as the Lenovo Smart Display is used more like a regular Google Home-type device I was hoping to see support there. I also sometimes have issues getting it to hear me, but not really more often than the JBL and Google devices I normally use.
CONCLUSION
The Lenovo Smart Display is a good first device for screened Google Assistant devices. It looks great and performs well most of the time. The software is obviously immature but, fortunately, will be updated directly by Google so it will receive new Android Things features as they roll out. It's listed at $299 for the 10 inch model and $199 for the 8 inch but has regularly featured in sales on Best Buy and Amazon since launch. Is it worth the ~$100 premium over a standard Google Home? Probably. If you're just getting into the smart speaker game I think you should strongly consider the Lenovo Smart Display. If you already have a speaker and are thinking of upgrading it is a tougher sell. I'd recommend you wait a bit (Christmas season?) to see what happens to prices as other manufacturers release their own versions.