Wosports Wildlife Camera review
I initially bit at the offer to test the 5MP version of the Wosports Wildlife Camera because I thought it might be a useful tool in capturing some good face photos of the people who check everyone's car doors at night (and take everything in the car when the door is unlocked.) Our neighborhood has about five car breakins (of unlocked cars,) a night now so yeah.
While I can rig up wiring here, there, and everywhere, it's pretty difficult to get power out to a location that moves. It seemed a trail camera, might be useful as a portable security product I could review. I have plenty of overhead shots, poorly framed overly lit faces, etc.
What is the Wosports Wildlife Camera
The Wosports Wildlife Camera is a thirty dollar, five megapixel, motion activated, AA battery powered, set and forget camera with night vision, PIR, and an LCD review screen that allows you to view the images it's taken.
Besides the Wosports Wildlife Camera, you will need 4 or 8 AA batteries. I put in 8 because that appears to be what it needs, the documentation, such that it is, claims 4 or 8. You will also need a micro SD card with an adapter, or just an SD card if you've got one to save to. All of this combined will set you back an additional $15-20.
Each image is 2592×1944 and about a meg and a half jpg. The camera subjectively looks about on par with the best they had five years ago. Contrast generally feels a little off, brightly lit areas become one color, not really HDR so not a huge issue.
Let's talk about annoyances
I'll get these out of the way quick.
Documentation – pretty much useless.  In the English section it tells you a little about how to put the batteries and SD card in and then goes into German for another couple of pages. That's OK, I figured it out, it's got three buttons.
Protective lens coverings that shipped on the product required tweezers to remove.
If it's made for hunters, the buttons need to be larger. They're tiny and sometimes pressing one fails because the button pushes into your finger fat.
There's no way I can see to delete an image on the card.
I'm not entirely sure what button wakes the thing up. I usually end up pressing three of them and wait and it comes on.
No pan/tilt/zoom in 5MP images. You get a thumbnail version basically and have to wonder what you're looking at until you dump the images.
If you want to connect it to a computer they used what appears to be a USB Mini B cable that does not seem to want to work with the ones I have in the office. There's no reason in this day and age to use a Mini connector, then again it may go with the five year ago camera feeling I had.
Perhaps this is comprised of everything that didn't sell five years ago?
Wosports Wildlife Camera in action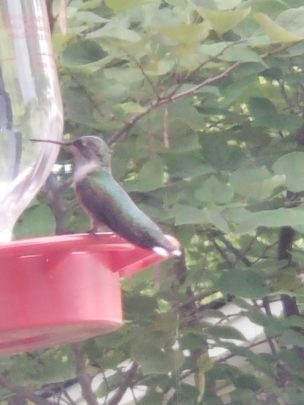 Contrast looks off on day photos. Night photos it all depends on how close the subject was.
Large things (rabbits, cats, puma, child,) trigger it well, while five hummingbirds right in front of it never set the thing off. Trigger distance appears over 90 feet out for fast moving things (cars,) but does not trigger for slowly walking people at that distance.
In general I think it did an OK job – the main purpose of these is to see what's going up and down trails and to sit out for months on end and still work when you pick them up.
This survived a couple of weeks and the batteries appear untouched.
That out of the way it's time for a slideshow.
Slideshow time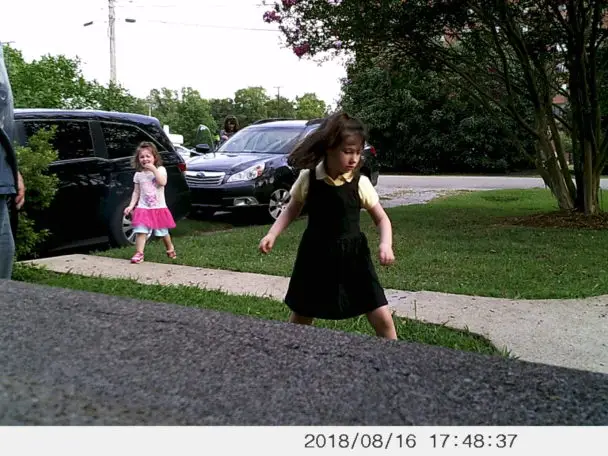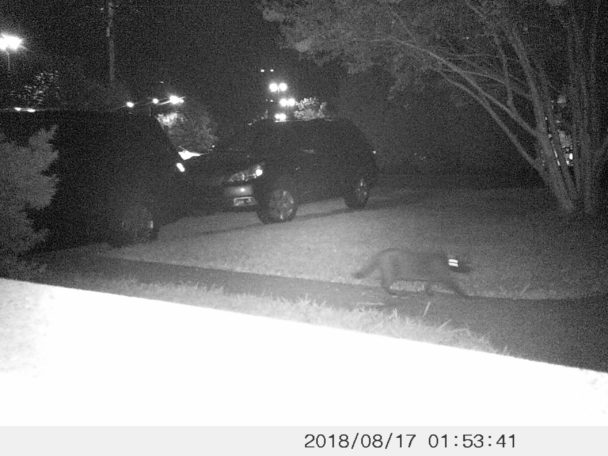 A little more story
I caught a mugshot worthy picture of a guy, turns out it's capable of doing this. Unfortunately it was just the Amazon delivery person. I think mentioning on the community web page things such as I've got a lawnmower sitting in my front yard with a GPS have tended to keep the burglars away.
There's also some included mounting hardware that I did not get pictures of and did not use. You can see it on the Amazon description page.
WoSports is currently working on the English version of their page. It was machine translated originally, so give them a little slack as they've hired some people to make it more comprehensible.
There's a 16MP version of the thing as well
Worth it?
If you want a security camera that you have to change the batteries on twice a year and not bother with running power, or if you want a trail camera, you be the judge – those pictures above are pretty much what you'll get. Mine has survived three torrential rains being dropped, etc.
You can grab a WoSports Wildlife Camera at Amazon for $29.99 or on WoSports for $59.99
I will mention if you want the camo cover  I have it looks like you'll need to go to WoSports, then choose the white color option. The white option brings the camo.
Addendum
WoSports contacted me after this review and mentioned that you can subscribe on WoSports.com for a coupon. Additionally like WoSports on Facebook and you can get a chance to win some of their products.