Airthings launches live Radon map based on sensor data
If you're not familiar with Radon, it's a natural radioactive gas that can cause a hoary host of health issues. It can be detected by simple $12 test kits, but as it can vary wildly over the course of a day, month, year. One test kit might not show you the whole piciture.
So Airthings came out with the Airthings Wave a while back, which was a smart radon detector that also tracked humidity and temperature.
I've been meaning to review that, but as it was a purchase for my business and not a supplied review item it's been at the back of the list (short review: works, wish it was WiFi as opposed to Bluetooth, only issues thus far (four months in,) was app changed and required login, also wish price was lower).
It appears they've been up to something with the sensor data that's being collected by the Wave by creating a real time Radon risk map. The risk map appears to take data from Airthings units and compile it into a big old map of where is the least healthy for you right now.
While I doubt many people are planning vacations based on radon levels, knowing whether to test that test that claimed you're safe or double, triple, or continuously check it just for good measure is kind of useful.
Radon mitigation in a home can be done by a professional and usually consists of installing a venting system to vent Radon vapor above the house from the basement, or if it's just occasionally high you can open a window or get out of the house if you're worried about it.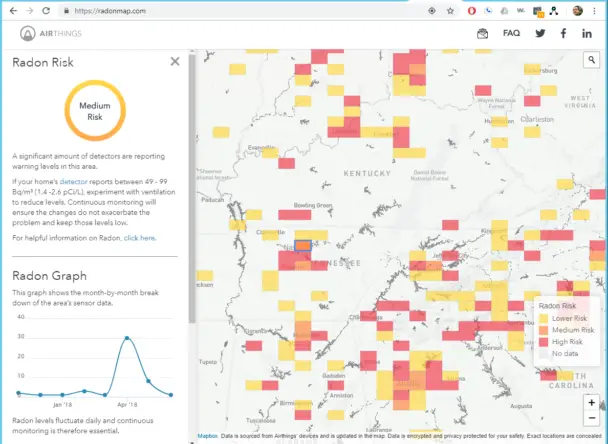 I'd first gotten interested in this, enough to purchase that Airthings Wave, when a potential tenant of mine was worried about some health issues with her baby. She'd asked about radon levels, I realized I had 17 year old data at that point, and got a device I could chuck everywhere I wanted to test.
Anyway, neat service, device works, check your estimated Radon risk now.