Take an electronic ice cube wherever you go with Cold-Flash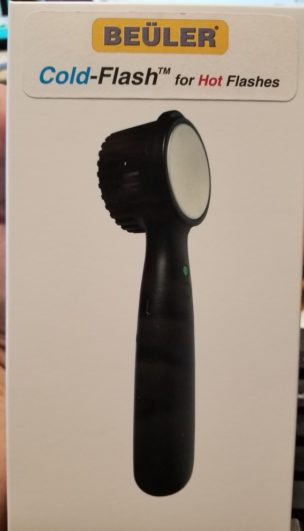 You can think of the Bueler Cold-Flash as a portable electronic ice cube, and it's primarily aimed at hot flash sufferers as a way to cool them down that doesn't involve ice, water, or opening a fridge.
I'm not a hot flash sufferer but ever since that air conditioning scarf we reviewed in 2013 I've been very interested in Peltier Effect cooling devices. Not just because I'm hot natured (fluffy,) but because I have a relative who the outside world is shut off to her above about 75 degrees.
So, let's talk about the Cold-Flash – it's a wand with a metal disk you place against your skin that pulls heat into cooling fins via the Peltier Effect. The fins then have a small fairly quiet fan blowing the heat off the fins and away from you.
The temperature of the metal plate looks to remain around 45-55f (7.2-12c) and works wonders at moving heat away.
I used my trusty FLIR thermal camera to give a little demo, and the reflective surface of the disk evidently screwed up the temperature reading.
Red is hot, blue is cold,and the reflective surface of the metal seemed to be screwing up the thermal camera temperature readings (but not blue display,) as the temp was in the 40-50 range. You can see in the second video it dissipating heat from my face. Subjectively it felt like a tiny cold rag had been wiped across my face. Quite refreshing.
So I decided to see what would happen if I sat outside in 97 degree weather, in jeans, and placed that on my carotid artery as I figured if I could cool my main blood flow maybe I'd be cooler overall. The results were that it moved a lot of heat away, felt like I had a wet rag on my neck, and I didn't sweat. That said, I was also not moving, the timeframe we're looking at was 8 minutes, and I drew a lot of stares as it looked like I was holding a medical device to my neck outside of a school.
Any time I used it outside and was not moving I felt cooler. That said, it also tied up an arm every time I wanted to use it so not exactly the perfect solution.
This is however aimed at hot flash sufferers as a portable discrete remedy, not to cool chubby guys who got to their kid's school about 12 minutes early. I'd love to have two of these on my neck while mowing and see how things go.
I had a few questions over the past few weeks and got relayed answers from the engineers that are not, or were not listed on the site. Here you go.
Smart charging 2200mAh  battery
Charges (or runs,) off of a 500/1amp Micro USB
Charge time is about three hours, run time around two hours
Do not get Cold-Flash wet or feed it after midnight
I have in my notes that it went from room temperature to very cold in the time it took my 5yo to start singing "Finger Family" in the car, so probably about 12-24 seconds to cool down.
They're currently running at $76.50 on the manufacturer's website.