Had to happen some day, the end of Paul's boosted Google storage
If you got bonus Google storage with your phone, it may have been something you forgot about as the days went on. For me, I just got the notification I'm not going to be able to send or received emails soon because Google's free 15 gigs, which is shared between Drive, projects, and Gmail, has been eaten through after eight years in the Googleverse.
Since HTC started offering storage and I was pretty confined to the HTC ecosystem I've never given it a second thought. My footprint in Google expanded, my reliance on other methods of backing things up went away, and now I'm at 400% of the free tier.
Pricing is pretty reasonable as storage goes, but the options aren't particularly great. Like I want 100GB, not 200.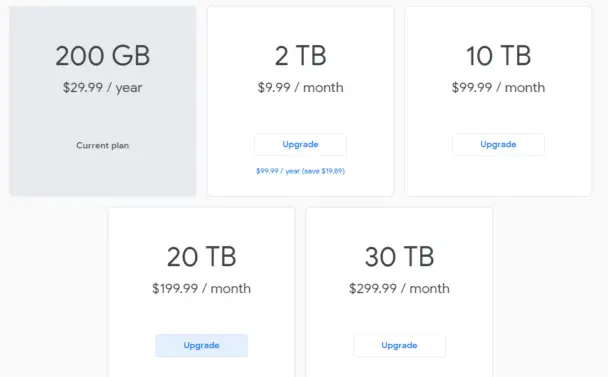 However, as I can share some of that storage with up to five family members I guess when Kim's storage is up (sometime next year,) we can split it.
It's interesting… I'd never considered how reliant a free trial of storage could make me on a system, however it's worked solidly the past several years for me. I believe I've had one instance in which Google Drive was not available this entire time, so I'm ponying up some money into the system.
Now if I could just locate why Google Photos is taking 30 gigs when I've got everything there set to simply high quality (and I have way more than 30 gig of photos,) I'd be golden.