Sennheiser Memory Mic review
The Sennheiser Memory Mic is a remote microphone for your smartphone that allows you to record up to four hours of audio at a distance and sync up audio later on.
The Memory Mic app will pull audio off of the device via a Bluetooth-negotiated WiFi hotspot, and then you have some options in the app for combining it with video you recorded and you can even mix audio between what your phone picked up and what the memory mic picked up.
I'd played with a similar device a while back that did not make the Pocketables cut simply because it was flaky as all get out. The Memory Mic is significantly less flaky.
So, rather than attempting to describe what you'll hear and see, I've recorded a YouTube video of me walking around my backyard. It's fascinating, let me tell you. It's not particularly great audio, but there's pretty much nowhere in my day at this point where I can have reasonably quiet places to record, even the FLACs you can download later you'll catch there's a lot of computer fans in the background.
What the Memory Mic produces
Test audio in FLAC form:
I'll mention neither of these are particularly stunning performances on my part, and just go to show what the thing can do with someone who's got a minor head cold going on at the moment.
Memory Mic in use
You power the memory Mic via a USB C cable, you power it on with the one button that's on the device. You start it recording via the app. This seems like a pretty clear case for adding a button to initiate recording, but you know, that's just me.
After recording is started you can stop it via the smartphone app, or it'll just keep recording until it fills up, runs out of battery, or you turn it off.
Your phone is not required after the audio starts recording for the Memory Mic to continue. Don't quote me on that however, this has been about three weeks of testing across multiple devices and I've got a minor cold.
If you're recording video with the Memory Mic, the app does that pretty well, but there are not really any options other than resolution (can't choose the framerate, turn on lighting, focus on a single point, etc).
After audio has copied off of the Memory Mic to the phone, you can combine it into your video. There's just a slider in the app however. You set a balance between Memory Mic and phone audio, or just choose the mic. There's no evident way to set points where it fades from Memory Mic to phone.
So the editor's a little limited. I believe you're left with enough data pre-merge that you could probably extract both audio tracks and merge it later, but that's not something I attempted.
Memory Mic setup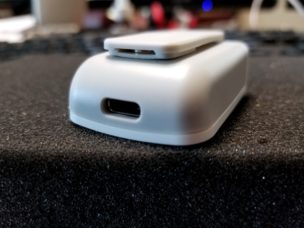 There's a brief two minute (maybe) setup that you're going to need to do before use. You'll need a somewhat quiet place for it as your phone will be playing test tones.
For me the first time failed claiming it was missing a file. This, interestingly, was the same failure I'd had with the buggy device I didn't review last year. However, after that one failure I've not had any issues.
Your phone will loudly play tones as a note, don't attempt to set this up in a courtroom.
Tech specs
Dimensions approx. 51 x 37 x 16 mm
Max. sound pressure level (at 1 kHz) 119 dB SPL
Transducer principle – Pre-polarized condenser microphone
Weight approx. 30 g
Charging time 70% charge = 1 h, 100% charge = 2 h
Pick-up pattern: Omnidirectional
Equivalent noise level 28 dB(A) SPL
RF output power 10 mW
Operating time 4 hours
Power supply Battery = built-in Li-Polymer rechargeable 3.7 V DC, 360 mAh
Charging: USB, 5V, 500 mA
Frequency range 2.4 to 2.4835 GHz
Transmission method Bluetooth 4.1 and higher, WLAN IEEE 802.11 b/g/n
Temperature Range: Operation: 0°C to +40°C , Storage: –20°C to +70°C
Audio frequency response 100–20,000 Hz
(Data stream) bit resolution 48 kHz / 16 bit
Wrapping up
Output is via WAV, there don't appear to be any options to convert it to other formats. I converted to FLAC for size's sake. Seems like there should be something built in to output this in more compressed formats because I don't think a lot of people are interested in 6MB per minute audio files.
Most of the complaints I have could be solved with some software updates. Features are lacking, their Amazon page says new things are incoming, but never believe a product, even from a known brand that says it'll get better, until it does.
It's not a discrete microphone, it's going to be right up there in your video. You'd think they would have made it a neutral gray or black just to not pop out on clothing so much. "Hay guy, you wearing a wire?" "Nahhh man, I'm wearing a whole box". This is supposed to be aimed at vloggers, it's just kind of too much.
The magnetic clip is pretty solid, but I've managed to dislodge and drop the thing while recording and not notice it for a few. Maybe a "last seen" tracker in the app would be useful or an on-screen "you're no longer near the Memory Mic" indicator would.
It's also a bit pricey.
That said, I do like it, hoping they'll make the software great and perhaps use that one button to also trigger audio recording.