Get Sprint Drive free! (If you don't know what free means)
Sprint Drive is an OBD2 real-time vehicle tracking and diagnostic system that also can keep passengers in car with a 4G LTE Wi-Fi hotspot so you don't have to use your tethering plan.
It also includes 24/7 roadside assistance (backed by AAA evidently, but not with an AAA membership,) and claims to be free with an unlimited option.
This being Sprint we know free and unlimited aren't. Get into that in a minute.
I'm going to preface this with this appears like a really cool little product, I'm not dissing it, just's Sprint's extremely liberal repurposing of words.
Sprint Drive features
Real time vehicle information (requires GPS connection, unknown if this requires a phone as it's not mentioned. Hope not.)
Roadside assistance (4 calls a year max)
In-car WiFi (Sprint 4G LTE only, no roaming)
Speed and acceleration monitoring with driver score
Vehicle health check via obd2
Mechanic hotline
Vehicle awareness:
– Vehicle health information and alerts for*: fuel level, battery status, coolant temperature, and more. (*Health alerts vary by make/model/year of car)
– Trip analysis and driver behavior. Know how often and where the following driving actions occur:
– hard acceleration
– sudden braking
– sharp turns
– long idle times
– Set custom geo-fence and curfew notifications for each car. Be alerted when a vehicle enters or leaves a boundary, or if it is operated outside of curfew hours.
Let's talk about how much this free Sprint Drive costs
Free of course means without restrictions placed upon giving you something. There are restrictions immediately, both in how you can get, and keep the device. It's not free, it's included with strings as part of a two-year agreement to purchase a separate plan.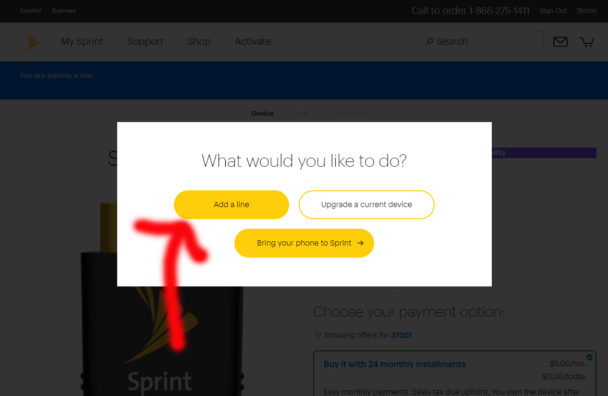 Should you not decide to spend at least $120 plus tax, fees, etc. over the next two years, your "free" $120 device will be at least $120, plus whatever cancellation fees you have added to it. That $120 is for the two gigabyte plan after which each month you drop to 2G speeds. Not terrible, not free, only on the Sprint network, no roaming.
If you have kids and actually want to entertain them, Sprint Drive's free service "Unlimited" will set you back $20 a month plus everything they're going to tack on. In this case, "Unlimited" means 480P SD video streams, gaming at 2mbit, data deprioritization during congestion, music capped at 500kbps (that one's ok actually,) and … yeah.
Unlimited customers who use more than 50GB will be deprioritized, so good luck with two kids, a working spouse, and that trip to Montana.
They also want to tack $9 a month to protect your $120 device on. Make sure to turn that off.
And to activate your device you're going to have to spend $30 on their activation fee for each device.
So, based on my phone bill (I'm dividing this in 2 since I have two lines as such may not reflect correctly,) administrative charge tacked on by Sprint is $2.50, Federal universal Service Assess Non-LD is $0.48, 911 tax which I'm betting will be tacked on is $1.16, sales taxes will amount to about $0.50 – $2 depending on plan).
Free Sprint Drive appears to cost:
2GB
Activation fee: $30
Service (total): $120
Fees/BS: $111.36
End of two years (without protection plan):  $261.36
End of two years (with protection plan + tax on plan): $498.96
"Unlimited"
Activation fee: $30
Service (total): $480
Fees/BS: $147.36
End of two years (without protection plan): $657.36
End of two years (with protection plan + tax) $894.96 <- use this number for shock purposes
Alternately
Use your 50 gig tethering plan included with most of their plans now (if you haven't checked, your 10gb one probably upgraded on you recently,) buy yourself an OBD2 diagnostic tool from Amazon, Torque pro for $5, and rest assured that all that data that the Sprint Drive dongle and 3rd party service agreements you're signing up for are not being sold to insurance agencies to market to you or to raise your rates.
Also turn on Google Map location sharing. You'll save about $220. That is unless you need the features offered by Sprint Drive. It's not a terrible plan, it's just not remotely free.