JAM Audio Live Loose Earbuds Review
I recently received the $20 Live Loose earbuds from JAM Audio. I was hopeful, as I always am when I go into a product review, that it would be a good product. I wanted it to be worth the time investment that any review requires. Well, in short, I was disappointed. I'll try to keep this review brief so that, as Thomas Jefferson would recommend, you can get on with your life.
DESIGN
The first thing I noticed about the Live Loose earbuds (apart from the horrible name) was the giant brick attached to the cable that connects the left and right buds. The best word to describe it is chunky. The brick contains the battery and Bluetooth module, of course, and also has buttons for media control and a microphone for phone calls. It also has a mottled-marbled look to it. I suppose this spotting is intended to enhance the look of the thing or perhaps to camouflage its size. It just made me constantly think it was dirty.
The absolute worst part about the brick is its placement. It sits about 2 inches below the left earbud. And this is what kills the Live Loose. The brick of a control unit swings about wildly and knocks about the wearers cheek and neck with the slightest head motion. It pulls the wire to one side and so causes the rubbery cable to rub across the back of the neck – irritating any neckhairs that happen to reside there.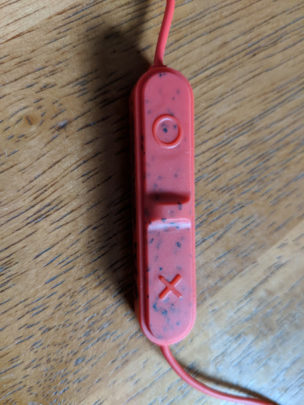 Finally, the buttons are really frustrating to use. They are hard to push and just not very user friendly. Press a button once for volume or hold it down to skip. In theory that's fine but in practice it fails. The buttons are so stiff that holding them down is very difficult to do. Maybe with more use they'd loosen up but my review unit never did.
SOUND
For all of my complaints so far, the Live Loose earbuds actually sound fine for a $20 headset. They aren't exceptional in any way. They aren't crisp and clear or extra bassy but they are serviceable for trips to the gym or walks around the park. There's good sound separation between the left and right channels and the soft plastic buds fit comfortably in the ear and do a good job of containing the sounds. At high volume they do get a little staticy but I guess I expect that at this price point.
CONCLUSION
There's not much left to say about the JAM Audio Live Loose earbuds. They sound OK but are not comfortable to wear. That makes them difficult to recommend. They are available in red, blue, and grey from Amazon and other retailers.