Sound BlasterX G6 7.1 HD Gaming DAC/External Sound Card review
The Sound BlasterX G6 is a lot of things, but in short it takes your audio and makes it great.
TL;DR specs: 130dB dual amp (Xamp) headphone amp external USB sound device with impressive audio enhancements but somewhat limited use cases.
OK, so this does a whole lot of things. I'll try and touch briefly on them. It's aimed at gaming so we'll talk about that at the end.
I'm going to preface this with this has been a very long review (got this back in Rocktober,) and I may not be the right person for this review as I seem to be lacking some of the verbiage needed to adequately say more than "wow, cool bro" when it comes to what I was hearing.
It sounded so good on vocals and has similar use cases I asked the company if they were licensing the AfterMaster Pro technology. They said they were not and that it's their own in house. Now I'm going to have to pit the two against each other but that's for another day.
External USB Sound "Card"
Plug it into the USB on your laptop, all sound processing gets offloaded to it. I can't really express how much better it sounded than using the line-out on my laptop. That said, I didn't think the laptop I was using was particularly bad until I listened on the Sound BlasterX G6.
I used a couple of headphones, one premium, one run of the mill. Both sounded great. Sorry, there's not a lot of words for this both sounded significantly better than they sounded before and the difference between the "meh" and the premium headphones tended to feel significantly slimmer.
I even cheated and watched some reviews of this in an attempt to find the right wording and didn't.
In-line audio perfector
Taking either a 3.5mm line in or an optical cable in to optical or line out the Sound BlasterX G6 can sit in between most popular audio cables (notably missing: HDMI,) and deliver similar results to if it were being used as a USB source.
The main drawback here is that on some gaming systems and anything you're trying to optical out, or if you're just wanting to use this to listen to music, you're going to have to power the thing from a USB source. Lot of cables. All included cables short.
So what's it doing?
You're going to find a lot of reviews (and their product literature,) that tell you about how most amps contain one amp across channels so if you've got an explosion to the left, the footsteps on the right will be washed out.
The Sound BlasterX G6 uses a process they've called Xamp Discrete Headphone Amplification to process audio truly splitting the headphone load between two channels.
Headphones, left and right were entirely separate. Audio space and depth were more defined on music. Sound was better on a system but not as markedly so. On gaming the Scout Mode minimized some of the world and brought out a different sound profile that enables you to more accurately hear what I would consider non-background cue noise.
I'm not sure how to describe Scout Mode (button on the side,) except as a gaming hearing aid. Sounds that it enhances are there in the game, they're more there in your head when Scout Mode is activated. Maybe it will help you, or maybe you'll get tripped up because some sounds don't need to be enhanced like that.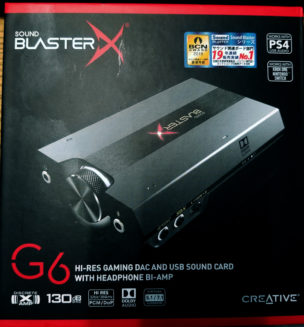 With the Sound Blaster Connect software you can make your computer sound even better, but things you do there do not carry over as far as I can tell to other inputs. This works on the XBOX One using optical line in, the Playstation using USB, and the Nintendo Switch using USB, but none of those are going to give you the options of the app.
Use scenarios
I tried this on my console gaming systems, it was good. The issue is my audio was already pretty good. I do feel there was an improvement overall, but perhaps the gaming I was throwing at it wasn't sufficiently audio-cued enough. I mean I liked it, don't get me wrong, music sounded about 16% better or so. Games sounded better than that but I'm not sure where to quantify that as on the two sound systems I have I had a different experience.
On my old JVC sound setup I felt there was significant improvement. That's a ~2004 JVC 5.1 sound system with Dolby Pro Logic II. The Sound BlasterX G6 made this sound a lot better.
On the VIZIO sound bar I reviewed, I don't feel there was as much "hot damn that's improved." I mean, it was great audio, and it was an improvement, but it was pretty great already. I'm not certain if they're doing some processing onboard already or not.
For me this shone as a headphone amp off of a laptop. Which is what it's targeted for as it was losing several of the channels on output.
Target / drawbacks
While the Sound BlasterX G6 can decode 7.1 audio, it does not encode it. The output, even in optical out, is simple stereo. You can run this into your 5.1, 7.1, etc but you're getting 2.0 if I'm reading everything correctly. Honestly I'm not sure how standard stereo handles bass so maybe 2.1?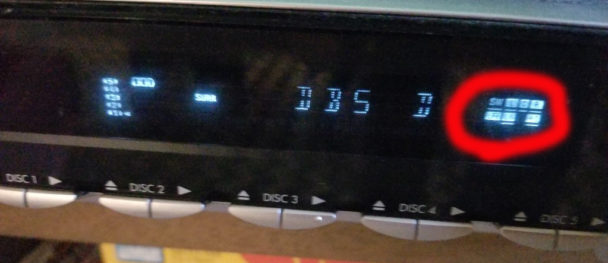 So my particular use case history says this is for headphones, with the Sound BlasterX G6 plugged into the USB on a computer. The gaming systems I have are currently outputting quite a bit of positional information due to pushing Dolby. Removing the 7.1 encoding and building a virtual 7.1 in stereo is not something I particularly want to do, however it does sound very well remastered.
There's some great config software and it only works when it's plugged into a PC.
So, PC gaming is where it's at, and fixing the audio on lower end audio outputs.
Lot of words, verdict?
PC laptop: yes (headphones or stereo speakers)
PC desktop: maybe, might go with a card instead
Mac: couldn't test
Nintendo DS: in portable mode yes (headphones,) on a TV with a sound system no, TV without a sound system maybe
XBOX/PS4: probably only if your sound system is stereo, or you're using TV speakers as output
And for phones – the audio is very much enriched, but you'll need to power it, cord it, and lug it around.
I do like the sound, it will probably live on my PC and power a couple of speakers for games and music (it really does good things to music, can't stress that enough,) but my particular setup, virtualizing 7.1 on a 5.1.2 loses some quality real positioning.
You might be able to grab the Sound BlasterX G6 at Amazon, but at the moment all I'm seeing it  were it's in stock is on Creative's website for $149.99