Three years and Kelp's Wild Waterways still not completed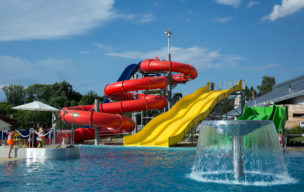 If you're a Google Opinion Rewards participant you probably have at one point been asked if you've been to Kelp's Wild Waterways or a number of random businesses that you might not have been to.
Kelp's promises family fun for everyone and… nah.
Unfortunately there is no Kelp's Wild Waterways. It's one of the honeypots used to find cheaters in the Google Opinion Rewards program.
I discovered this quite by accident as I'd been out near a water park from my childhood the day that I got asked if I went to it. I had not, I answered I had not, and then searched for it hoping to find a new place to take my 5yo and 3yo.
I'd seen the request pop up once while I was in Vegas for CES and had paid it no mind (lot of stuff I don't know in Vegas,) but this time was after I'd been near the location of an actual water park (although it closed in the 90's I think.)
Nope.
Anyway, there are more, and unfortunately Alphabet Inc doesn't appear to be funnelling money in Kelp's Wild Waterways and expected completion date is probably a few months after Google Fiber.
People who answer they liked it are evidently booted right out of the Opinion Rewards program, and their names are placed on shortlists for local political office consideration. So there's that.
So yeah, don't lie in the program, there are plenty of traps hidden throughout, and if you think Google doesn't know you're dropping by the adult store on your way home from work, and not at Kelp's, you're mistaken.