From NVMe back to the world of of more pedestrian things with SATA is where the MX500 takes us. However the MX500 shouldn't be underestimated as we'll see it even gives the NVMe drives a run in a few areas. The MX500 represents Crucial's latest in 3d nand with 64 layet TLC.
Our Test system and Procedure
We detailed our new test system in it's own article.. The system is running windows 10 Professional and was under no load(AV disabled) for all tests. Testing will consist our standard set of tests which we outlined previously. At this point enough drives have been run through the current test bench to remove results from it's predecessor. 
The MX500
This slideshow requires JavaScript.
The packaging of the MX500 is in line with what we're used to seeing with sata SSDs. The drive continues to include a 7mm to 9.5mm plastic spacer although I have never seen the utility of this to date. Opening up the drive brings a few suprises. We see a double sided PCB contraining a total of 8 packages. Although we only have one side populated on the 500GB model the 1TB and 2TB models will use the empty pads. The SM2258 in use here is a four channel controller and this configuration ensures operation in a two die per channel configuration. An aluminum shell and included thermal material should make for an interesting comparison to the last time we saw an SM2258 with TLC in operation in a plastic enclosure.
| Capacity | 250GB | 500GB | 1TB | 2TB |
| --- | --- | --- | --- | --- |
| Controller | SM2258 | SM2258 | SM2258 | SM2258 |
| Firmware | | M3CR010 | | |
| NAND | Micron 2nd Gen 256Gbit 3d TLC | Micron 2nd Gen 256Gbit 3d TLC | Micron 2nd Gen 256Gbit 3d TLC | Micron 2nd Gen 256Gbit 3d TLC |
| Sequential Read | 560 MB/s | 560 MB/s | 560 MB/s | 560 MB/s |
| Sequential Write | 510 MB/s | 510 MB/s | 510 MB/s | 510 MB/s |
| 4k Random Read | 95,000 IOPS | 95,000 IOPS | 95,000 IOPS | 95,000 IOPS |
| 4k Random Write | 90,000 IOPS | 90,000 IOPS | 90,000 IOPS | 90,000 IOPS |
| Temperature range | 0-70°C | 0-70°C | 0-70°C | 0-70°C |
| Dimensions | 7mm X 69.85mm X 100.5mm | 7mm X 69.85mm X 100.5mm | 7mm X 69.85mm X 100.5mm | 7mm X 69.85mm X 100.5mm |
| Endurance | 100TBW | 180TBW | 360TBW | 700TBW |
| Warranty | 5 years | 5 years | 5 years | 5 years |
All the performance numbers are where we expect them to be at this point with everything rated at "up to" the interface limit. the MX500 does impress with a 5 year warranty and staggering 700TBW endurance especially on the massive 2TB model. We should take note that the smallest MX500 listed is 250GB and this may be the last generation for that as well. As density increases we see the minimum viable size increase. 64Gb and 128Gb drives are all but gone from the market today.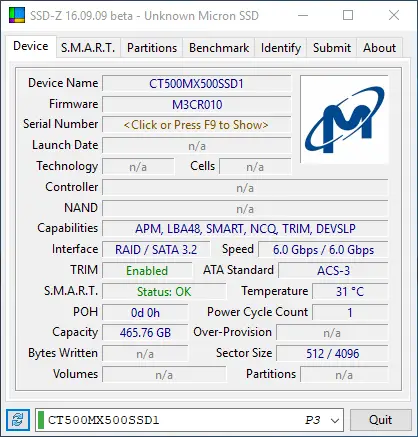 SSD-z is still having issues with 3d nand and newer controllers, if someone has an alternative to it(or can contact http://aezay.dk/) we're open to suggestions. What we do see is working TRIM for this drive. This is our second glimpse at micron specific firmware on a Silicon Motion controller. The firmware used here appears related to the BX300 which used the same controller. With that out of the way let's see what the MX500 can do.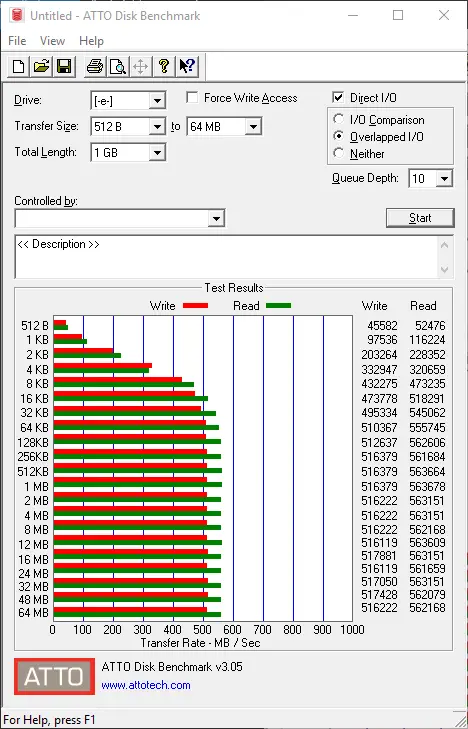 Atto shows a rapid ramp up  for the MX500 likely thanks to an SLC caching layer. This is a huge improvement over what we saw on the BX300 so lets get to a comparison.
This slideshow requires JavaScript.
If it wasn't for the NVMe drives spoiling the chart the MX500 would outright beat everything. The MX500 even outperforms the A1000 on some of the smaller sizes. This is somewhat of a shock as the overhead of the SATA interface is a handicap especially at small sizes.
We were promised 560/510 for sequential performance and at QD32 where vendors like to test they over deliver. Even down at QD1 we aren't far from the listed performance something we've seen other drives take a much bigger hit on, especially regarding writes.
This slideshow requires JavaScript.
Crystal Disk Mark is putting the MX500 in impressive standing. The new 3d TLC nand is showing performance we're used to seeing MLC drives. The only drives showing any real advantage over the MX500 are using the newer NVMe interface.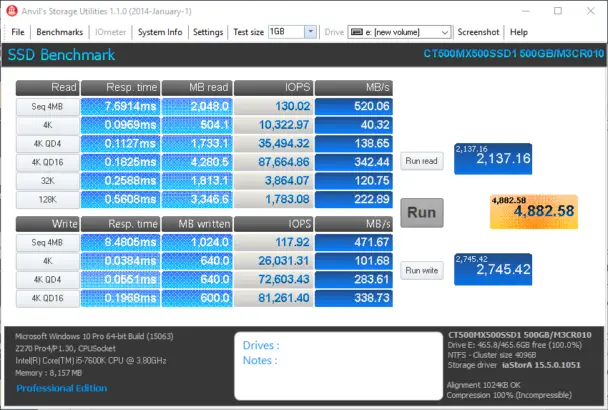 Anvil gives us a good look at response times. As before with the BX300 delivers Micron once again delivers impressive response times even over SATA.
This slideshow requires JavaScript.
Anvil shows some surprising things between the MX500 and A1000 in our test suite. For some of the 4k Tests, and ones we're likely to see impact real world performance such as QD1 and QD4 the SATA drive can actually out perform the NVMe device. Keep in mind that the A1000 is a budget NVMe device and was limited to 2 PCIe lanes. However this just shows that the SATA drives shouldn't be thrown out just yet. The rest of the Anvil suite shows it thoroughly beating or coming within run to run variance of the other SATA devices.
This slideshow requires JavaScript.
AS SSD As always our sanity check. In the rest of the tests however we see the MX500 outperforming everything that isn't NVME, a position it's been in this entire time.
This slideshow requires JavaScript.
The MX500 comes out swinging in AS SSD as well with the only drives holding a real advantage having moved to the NVMe interface. It does leave the question what the IMFT nand used in the MX500 could do if it wasn't held back by the use of SATA.
This scatter plot looks familiar it's because it's the operation we're used to seeing on silicon motion controllers. The initial filling of the drive(possibly aided by SLC cache) dropping to a bi stable operation after a period of time. It seems that the MX500 sees the floor drop in a few discrete steps while keeping things above 10k iops during it's stable periods.
That high floor is enough for the MX500 to set a new record for our consistency calculation. It even beat out both NVMe drives which looked like they had SATA devices beat outright.
Pricing
I'd love to belive that any of these prices will be accurate for more than the next 24 hours however with the holidays being what they are that's little more than a pipe dream. However at the time of this wirting in every segment outside of the 256GB capacity the MX500 is coming in at a price equal to or below any other drive we've tested. Considering that it outperformed it's SATA bretheren and even gave NVMe drives a run in a few edge cases this makes the MX500 an easy decision if you're considering 2.5 inch drives.
Closing thoughts
The MX500 is good, almost too good for how it's priced. Undercuting most mainstream and some budget SATA drives Crucial seems without worthwhile competition to the MX500. If it wasn't for the existence of higher performance NVMe devices I don't think I'd have to recommend a different drive for any real reason, alas that's not the case. However in use cases where NVMe doesn't offer a tangible benefit(facebook won't load any faster with a faster SSD), you need more capacity than m.2 devices offer so far(most or limited to 1tb or less) or you're working with a system that simply can't use an m.2 drive the MX500 is as good as SATA gets while being at a price that's hard to beat.