DXA-Micro-Pro+ Mixer Review
We've looked at a few different cameras and even a microphone however we've yet to review anything to tie them together. That changes today with a fantastically simple and effective device the Beachtek DXA-Micro-Pro+ a convenient little all in one mixer sized perfectly for single camera environments.
DXA-Micro-Pro+ unboxing and accessories
This slideshow requires JavaScript.
Overall the package for the DXA-Micro-Pro+ includes almost everything you'll need to start using it and you should have the rest of it already. Included in the package is the mixer, a charging cable and  2 stereo right angle cables. Also included is a Hot-Shoe mount already attached to the mixer as with the wrench to remove it. Overall the included kit is very comprehensive and after working with it for a few weeks the only thing I would have considered including additionally would have been an XLR right angle adapter. The cheese plate on the top of the mixer(which can be removed) also adds a hot-shoe to the top as well. Everything on the mixer is well labeled(other than the micro USB) for ease of use. The XLR jack provides 48V phantom power for condensor microphones like the NW-700 we reviewed(we actually used this mixer then). The 3.5mm jacks also provide 3.5v power for smaller microphones that require it. The Hi/Low gain is a +15/+30Db toggle and is independent between the left and right channels. Physically the only change I would consider with this mixer would be using mini-XLR and adding a second XLR jack for stereo microphones using phantom power although this would have a negative impact on battery life.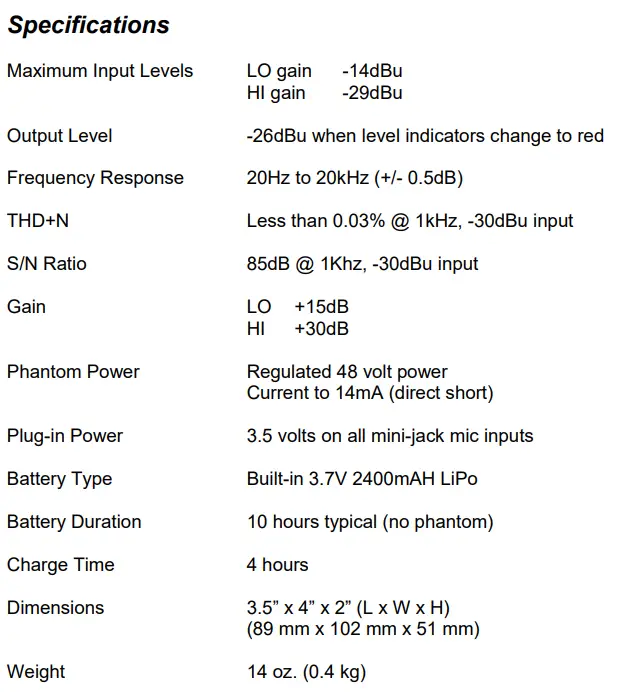 Overall the spec sheet included in the manual hits a few key points. Maximum input is limited to levels that would make your ears hurt, and frequency Response is 20Hz to 20Khz which seems fairly common.  Weight is an interesting point as the included battery, charging circuitry and cheese plate puts it a few ounces above it's predecessor but not uncomfortably so. Battery life is listed at up to 10 hours without phantom power which is a massive improvement from older designs(that said a 9v is typically listed at 500mAH for an alkaline battery not 2400mAH).
Using the mixer
This slideshow requires JavaScript.
Setting the mixer up and using it is fairly straight forward. As you can see thanks to it's inclusion of a top hot shoe I was easily able to attach the E1 which is too short to bolt directly and not cause lens problems. Attaching a shotgun microphone to the side was also quite simple although I would have preferred to place it on the right side that would require a right angle cable I don't have at the moment. Attaching the shotgun microphone is one place I wish Beachtek had included a right angle adapter like this one from LyxPro although i'm sure cost was a driving factor there.
Overall actually using the mixer is very easy. Any camera or device with a stereo in(phones included) is compatible with it allowing the simultaneous use of up to 2 microphones. The mono/Stereo switch isn't something I really considered till I started using it and is very handy when just using a single cardioid mic like I do during reviews. The battery has more than exceeded anything I've thrown at it easily managing 2+ hour recording sessions with phantom power.
Closing thoughts
I really think Beachtek has nearly the best they can offer with the DXA-Micro-Pro+. The integrated battery and use of USB power provide ample option for extended recording on the go. The stereo output and per channel gain control allow for easy recording be it vocal or instrumental. Including a cheese plate like they did is a good move on Beachteks part as it adds a ton of flexibility by making the mixer not just a flat surface. Amazon has the DXA-Micro-Pro+ listed at 229.99 it's older sibling is also available for 149.99 but unfortunately lacks the plate and integrated battery.