Edifier R1850DB Active Bookshelf Speakers Review
In for review longer than I'd like to admit has been a beautiful bookshelf speaker set from Edifier. The R1850DB is a stereo bookshelf speaker set is a 70w active speaker set that's made me re-think my position on speakers.
This slideshow requires JavaScript.
What's inside the box
The R1850DB comes with almost everything you could want to hook the speakers up. Optical and RCA(as well as RCA to 3.5mm) are all included although oddly coax gets the cold shoulder. That said I can't remember the last time anyone wanted to use coaxial to hook up speakers when they could opt for optical. We also get a 3.5mm sub out if you wanted to connect these to a subwoofer as well. An interesting note on the back panel of the 
R1850DB is a 300ma specification, while correct at 240v I was able to verifiy with Edifier that these should also be marked for 600ma at 120v to maintain their 70w capacity.
| | |
| --- | --- |
| Power Output: | R/L (treble): 16W+16W |
| | R/L (mid-range and bass): 19W+19W |
| Frequency response: | R/L: 60Hz-20KHz |
| Noise level: | ≤25dB(A) |
| Audio inputs: | PC/AUX/Optical/Coaxial/Bluetooth |
Most of the specification table is what we'd expect to see. As someone who prefers things with a little more bass I wouldn't have objected to seeing things shift a few more watts in that direction. However with the option to attach a dedicated subwoofer a more balanced approach is appropriate here as well. One surprise is the Frequency response range which cuts out at 60Hz. I'm more willing to believe this than typical 20Hz-20Khz we usually see and seems to indicate actual testing was done!
Setup
Setting the R1850DB up with whatever I wanted turned out to be super easy. Over Bluetooth they were quick to find and pair with several phones. Anyone who's plugged in PC speakers before should be able to handle the clearly marked RCA jacks. Coaxial and Optical are a little more difficult if only for the caution that they require PCM at 44.1KHz or 48KHz however anyone with digital outputs should be used to this. 
The remote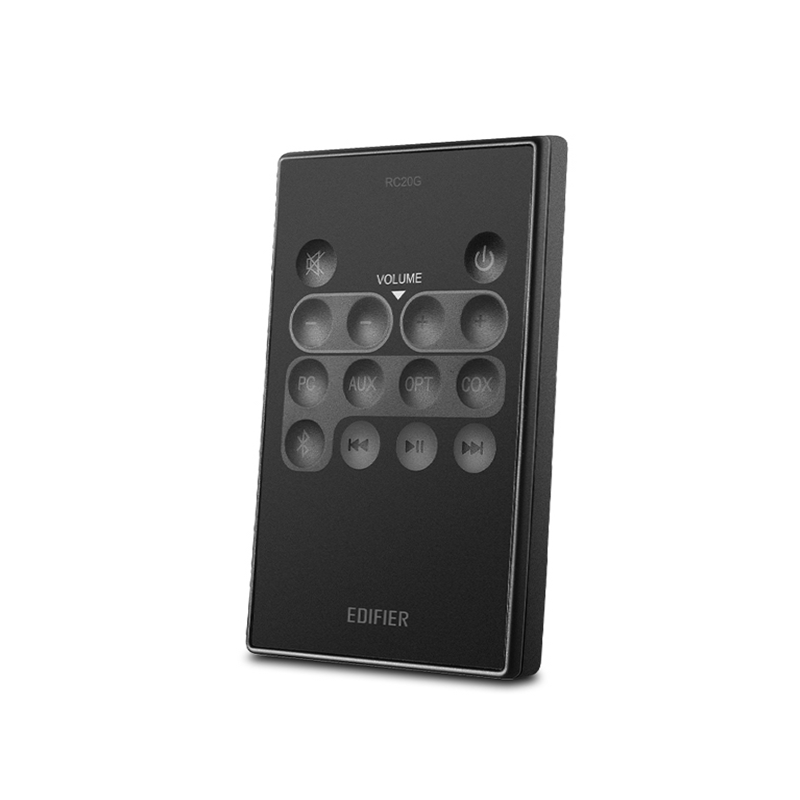 I do want to take a second to talk about the included IR remote since it is a bit different than i'm used to seeing. It has the typical features you'd expect, power track and convenient single select input control. But then volume is actually controlled per speaker which is a bit of an up and down. Adjusting just one speaker made for an impressive trick out of the box but I rarely found myself actually wanting to control just one.
Performance
Testing was done using 24 bit FLAC files output through multiple sources and through multiple inputs. The R1850DB sounded best in my testing using the RCA in which provided a full and rich sound. Individual notes and instruments listening to YYZ were clean and crisp. Bluetooth provided a good sound and was clearly superior to small Bluetooth speakers and adapters I've used in the past. In the studio it compared well to my Pyle PDMN38 bookshelf speakers and AMP100 I generally use for audio/video editing. Compared to my existing setup the R1850DB was less mess thanks to the lack of an external amp as well as provided a fuller cleaner sound.
Closing Thoughts
Overall I'm outright impressed with the R1850DB. With clean rich sound, a variety of input options and overall excellent construction the only hesitation in buying these is likely the price. At 199.99 the R1850DB is priced above several 2.1 THX certified sets and almost up with 5.1 sets. But honestly those sets may be louder(at 200+watts) but aren't half as clear or clean. If you want good, not just loud these Edifier speakers are the way to go.