Get through the holidays with Boom Beach
Two or three years ago I was sitting in Oregon with the inlaws contemplating Christmas, waiting for someone to come and pick us up to go somewhere, and drinking the weakest excuse for coffee ever made by man.
TL;DR – Paul talks about a game he's spent a long time playing after reaching the highest level possible, doesn't describe the game much, consider this a nostalgia trip.
The kids were all nestled on the floor playing with toys designed for two year olds, the TV was reporting on Oregon weather which was rain, drizzle, light rain, misting rain, cold, rain, and some sprinkles over Estacada, chance of rain in the future. I was a bit bored.
I wanted a game that involved strategy, that I could put down if I had a child explode, and that could be picked up when I had time without overly getting in my face to come and pet a cow or some Tamagotchi nonsense. I mean there's some notifications, but you don't have to enable them or respond.
I had seen the TV advertisements for Boom Beach before. Looked stupid,  I'd just watched Saving Private Ryan and it felt in extremely poor taste, but decided to give it a try. This was in 2016 I'm guessing. I started playing and it was somewhat fun, I realized the big hook to it was it was something you had to wait on, and I decided I'd see how far I could get in a week or so and then probably give it up.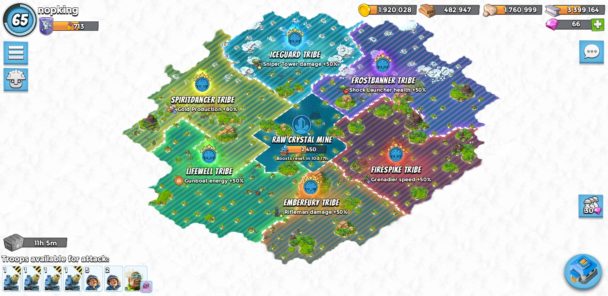 So I played, it was fun enough I decided I was going to see how far it was possible to go without paying for anything, and played, and there didn't seem to be any limit to where I could. At least not initially.
The game itself involves multiple sections, the main is to land your landing craft, unload and get off the beach and conquer an island occupied by the enemy. You have several different troop types and you have a battleship that can assist with things such as bombing an area, dropping health, or shooting a ball of spider like robots to eat the defenses.
The other portions of the game are special operations, base management (Farmville essentially,) and … eh, you'll either like it or hate it. Plenty of things to do, monthly events, yadda yadda until you hit level 65 and wipe the map of all of your enemies and you're left wondering what's left.
Over the course of a couple of years the game changed (for the better,) and I joined a task force called "Eman." I've never been in another task force, don't regret that decision either. Been fun.
That's oddly where I'm at. Level 65, maximum Boom Beachitude minus a couple of hero upgrades, map is mine (everyone has their own maps as a note.) I re-liberate about 15 bases a day, max out everything, hope to get my task force members up to my level for harder ops, and sit there wondering what it was all about.
There's a new update coming out for it called Warships, it'll be out someday… should bring something for the thousands of higher level players. The studio has another game they're pushing out at the moment so chances of ol' Boom Beach being pushed to the forefront are pretty slim… they say next month or so, we'll see.
Without paying, you're looking at probably two years to be the highest level. Near about a year in I had a significant Google Play balance and decided I was going to purchase the extra builders for a few months (I think I spent $10 over 5 months.) Without the extra builders you're looking at ~538 days to upgrade buildings and 470 days of armory upgrades. I cut that to about 425 building upgrade days more or less.
Alternately if you have $28,200 sitting around you can just buy your way to the top. I was trying to keep it in the $10 range personally as I really did like the game after a while and might as well support them, especially when that was Google Opinion Rewards money.
If you're wanting to be number one, top of the charts, the leader on the planet, I can't see any way you can get much past 1000 medals without either being the perfect player, or paying for instant training in the game. Just troop rebuild time is too long when you're looking at 13+ fights a day.
Along the way, I've had fun. I've studied a couple of videos, and watch a regular broadcast by The Chicken to learn some tips and tricks, and fought many special event Mega Crabs.
And it's been fun. I've still got a couple of upgrades to the Heros left, should get the doctor's 128 Hero Point upgrade this week if I don't miss my guess.
Anyway, Boom Beach is free to play, you can grab it on iOS or Android and it plays the same on either. You don't have to pay jack, although if you want to hit the leaderboard you're going to probably have to eventually.
That's my current goal actually, see if I can reach #1. Going up against 800medal bases currently and at this rate, assuming nothing changes, looking at August 2019 as best case to tie.
I'm betting however, I'll be pitted against 1000+ medal bases soon so probably am going to hit a wall sometime well before that. I'm good, but I'm not that good I bet. We'll see.
Download: Google Play | App Store