Unauthorized charge from Unlimited Gamez Mo.?
Last night about 7:12pm my wife got a text that she had purchased Unlimited Gamez Mo. for $5.00/31 Days w/ongoing charges.
TL;DR – they're a scam, you haven't been hacked, just call your phone provider, tell them you've got an unauthorized charge, block additional charges from any third party unless you actually need to use them.
As of Feb 21, 2021 this article had 53,152 views. Most a year or more after it had posted. That's over a quarter million dollars of fraudulent charges that just managed to find their way here.
Update April 7, 2020 at this point we're in the tens of thousands of views of this article, during the pandemic it appears they've been busy signing numbers up for games and charging them.
Update – April 11, 2019 this post has been up since Dec 17th 2018 and 4,859 people have come here searching for who this company is. Let that sink in, your carrier, Sprint, T-Mobile, Etc is letting them do this.
As our 5yo had been at the helm of the phone playing My Pal Angela (no relation to this company I'll note,) she became the first suspect as she had purchased an upgrade with diamonds she'd earned in-game and she got a talking to.
Should be noted Google Play is locked for purchases (and kiddo doesn't have the password,) were we not in the car driving home, kid would not have gotten a talking to. She got quite the apology from mom when she figured out what was going on.
About twenty minutes later I got a similar text on my phone. Same company, different charge. I did a quick run through of similar content between phones and nothing similar other than Google products. Not the same games, not the same studios, etc.
For the most part, Kim's phone and mine exist entirely separate in reality. Mine is a test bed for pocketables, and hers had the 10 or so apps she uses.
I called up Sprint via *2, hit the number 5 more times than I have ever and finally reached a person who removed the charges and blocked all future carrier charges.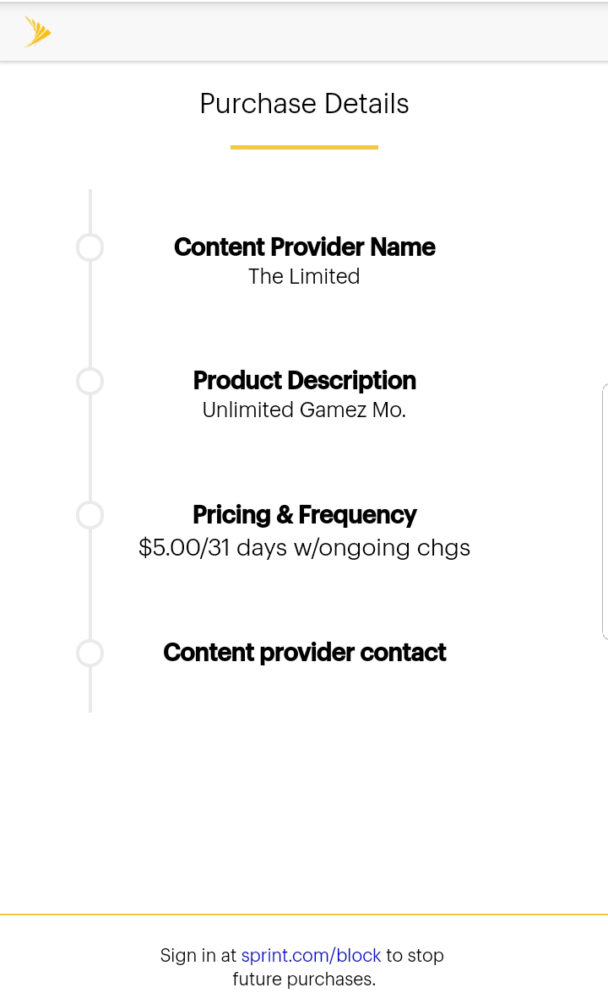 Something I learned is you can log into your Sprint account at sprint.com/block and set it to block all charges in the future, however that evidently doesn't work. We'll see if it's been fixed I guess.
Anyway, Unlimited Gamez Mo got a 5yo yelled at by block charging numbers they have nothing to do with. If you get one of those call your carrier and complain loudly. They've been doing this for years and it's profitable enough they can hit entire blocks of numbers at a time.
All it takes is a couple of people not disputing the charges or not seeing the text to make this stuff profitable.
Unlimited Gamez Mo is an Australian company incorporated in the Cayman Islands. Should be noted they think they can legally bind you to a contract by date of first browse of the end user licensing agreement, so yeah, they're real legal whizzes there.
Basically it's an overseas entity using carrier's third party direct billing system in order to charge you, and all it takes is having a phone number for them to bill you.