Xiaomi's Mijia hub (Mi Home): more than a hub
I have been dismissing the idea of buying a "hub" device for a while. I run a NodeRED server and adding yet another hub always seem preposterous to me. Then I came across the Xiaomi's Mijia hub and I thought: OK, I'm actually getting something more than a hub this time around. Thanks to GearBest, I get to play with the hub, temperature sensor and a cube.
Xiaomi's Mijia hub (Mi Home)
I'm not a stranger to Xiaomi devices. I'm always impressed with their build quality to price ratio. This case is no different and a Zigbee compatible hub is embedded into a white shell and supercharged with the following features:
Zigbee hub
RGB LED mood light
Speaker
Depending on what other sensor and accessories you purchased from Xiaomi (and the list is long) you can transform this device into:
timed lamp
notification light
alarm clock
home alarm system
doorbell
radio player
and probably more
For less than $25 (currently on sale) you get a pretty sweet deal. If you add the smart sensors to the list you could smart-up your home without breaking the bank.
Not everything is perfect
Before I start getting very excited about the possible NodeRED integration, let's talk about a couple of issues I'd like to see addressed by Xiaomi. [appbox googleplay com.xiaomi.smarthome] To register the Xiaomi's Mijia hub, you have to use Mi Home app, however, the hub is not "visible" to any other server than China Mainland. The Mi Home app comes with several servers, each one of them has a unique set of products, and somehow I'm stuck with the Chinese one. This (probably, as I was not able to test it) will influence what internet radios you can play through the speaker, but what is more important, it will also pick a Chinese voice assistant and feedback language too.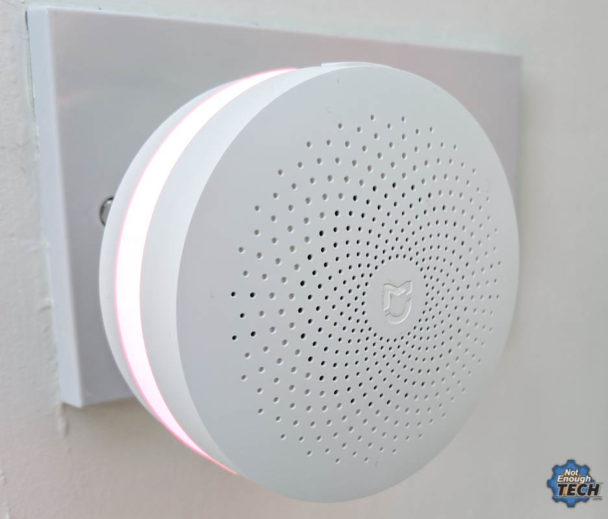 Fortunately, the Mi Home can be easily integrated with Alexa and Google Assistant through their respective skills. Yes, you will be able to use English voice commands to control your smart devices. The feedback is given by the hub, usually, consist of phrases like "device connected" spoken in Chinese, but the interface language can be set to English so you will never feel lost.
The cool things
All the problems aside, the Xiaomi's Mijia hub comes with a dev mode which allows for the LAN controls and NodeRED integration. If you use HASS or NodeRED you will be able to harvest the data and send commands back and forth between the hub and your home server.
I will be talking about the NodeRED integration in details soon. Since I own already Xiaomi Yeelight bulbs, I was able to see it linked to my Xiaomi account and control it straight away. Note that your Yeelight products have to be registered to the same server as Mi Home. The Mi Home app is robust and I was able to find all the settings needed to set up and control the hub.
Xiaomi's Mijia hub – alarm clock
It's not revolutionary, but having an ability to set an alarm clock on a device that is in another room is probably beneficial to all of you who have kids. Put the hub inside or near their bedroom, and they will have to get up to turn the alarm off. It's a shame you cannot control the LED light at the same time.
Please note, that you won't see a notification on your phone to turn the alarm off. You will have to get up and press the button on the hub.
Xiaomi's Mijia hub – doorbell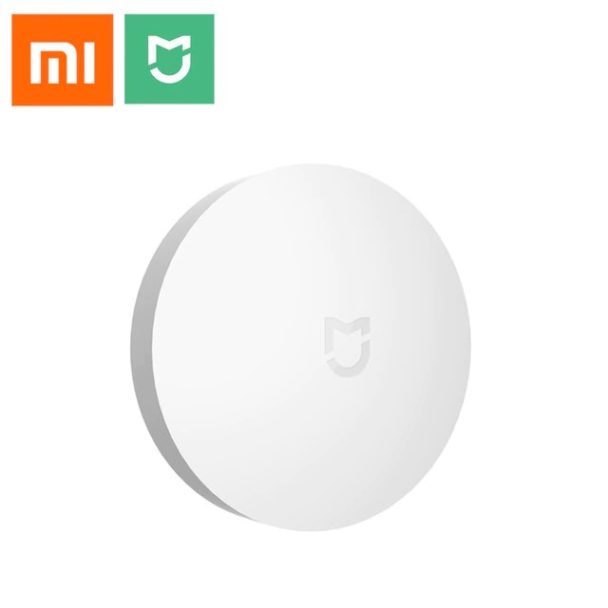 To get this function, you will need to get the switch button. The idea is super simple, press the button, listen to the doorbell alarm from the speaker. I have a feeling they got inspired by my Amazon Dash Doorbell. Simple but effective.  
Xiaomi's Mijia hub – home alarm
With a complete selection of security sensors, door and window sensors you can practically create your own security system. You can arm the system from the app, and once the alarm is triggered you will get the mobile notification, on top of the alarm siren. Additionally, having more than one hubs will prevent intruders from silencing the alarm instantly by unplugging the hub from the socket.
Xiaomi's Mijia hub – night light
Linking the hub with movement sensors enables you to trigger the mood light and illuminate the path to your fridge at 3 am. I can totally see myself doing this. If you want extra lights for stairs, consider my $20 staircase LEDs instead!  
Conclusion
Disclaimer
The Xiaomi's Mijia hub has been provided to me for the purpose of the review. As usual, with all my reviews I reserve the right to an honest critique of the product.
I reached out to the Xiaomi support asking about the server issues, I hope this will get resolved soon. Other than this, the hub is an excellent product that deserves some recognition. I cannot wait to tinker with it and see what options are available in NodeRED. Overall, the price and the standalone features are great. With time, I can see myself adding more Zigbee enabled sensors, as it does not require as much power as ESP based ecosystem.
You can pick up your hub for $24.99 on GearBest.com