Asking Google "how to tell if you should…" returning suicide prevention links
Update April 30, 2022 – Pocketables should not come up when looking for help on suicide prevention. Please visit suicidepreventionlifeline.org and take care of yourself ok?
This was an article about Google being screwy in 2019. Really though, take care of yourself.
---
I first heard of this when someone posted a Google search result last night for "how to tell if you're running jdk or jre" – this is a question to identify whether you're using the Java Development Kit, or the Java Runtime Environment.
What it probably should not return is the suicide crisis helpline as the number one result. Or perhaps it should depending on what your level of Java immersion is.
Asking whether you should use PERL or PHP for an application similarly gives a first result of the suicide hotline.
The suicide hotline contact appears to be local for whatever country you're located in when you search.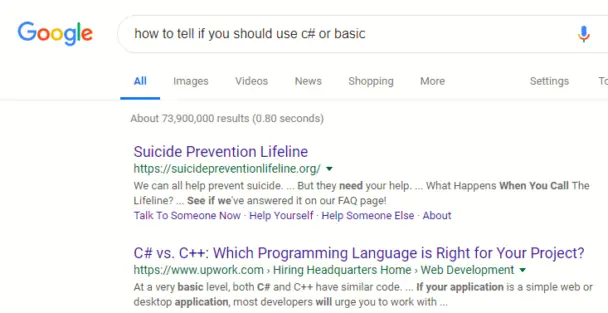 C# or Basic, Pascal or C, or my current favorite "php or a hunk of cheese"
It appears (as of ~2am EST, yes, been reading late,) that anything with "how to tell if you should" at the start of a query is currently returning first position advertisements for suicide prevention hotlines.
Fairly interesting pushed search result. Do not believe it was returning this a few days ago, but probably should be addressed by Google as it doesn't appear to be relevant to most searches that start with "how to tell if you should"…
Just things that keep me up at night.
[
twitter
]